Editor's Note: At least 608 people were killed in Indonesia following two devastating earthquakes last week. Hundreds are still missing and authorities fear the death toll will climb as more bodies are found in the rubble.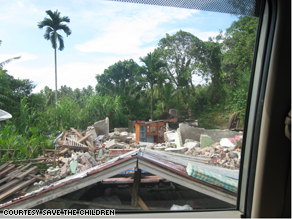 Most of the homes in Singai Pingai were damaged or destroyed the the earthquake. Families now are bust salvaging what they can from the rubble.
Allison Zelkowitz
Program Manager, Save the Children in Indonesia
Blog entry, October 7, 2009, 1:40 am
This morning I led a five-person team of Save the Children staff and volunteers to assess an area near Lake Maninjau, in northern Pariaman district. At first, near the main road, the damage didn't seem that serious. But once we started heading toward the interior, up into the hills, we were alarmed by what we saw: skeletons of houses, splits in the road and metal roofs lying flat on the ground, surrounded by bricks and rubble. Most of the homes that were still standing had suffered irreparable damage, with huge cracks crisscrossing the walls.
Still many were occupied. People seem to have salvaged what belongings they could and moved them to areas that still provided some shelter. We passed two men sitting at a table in what must have been the dining room – now that the exterior wall had collapsed, it looked more like a patio. A number of homes were propped up by wooden posts, providing some support to the weakened structure. If another earthquake occurs, I fear they will do little good.
During this morning's journey, our car was passed by a funeral procession. Six men carried a draped body; they were followed by at least 100 people. The crowd was winding its way slowly up the road toward us, so we stopped the car and waited until they passed. As we watched the group walk by, I was struck by how immaculately dressed they all were. Some probably borrowed clothing from friends or relatives. But many must have unearthed theirs from the debris, then washed and (somehow) pressed them. I find that rather noble.
By early afternoon our team finished a quick survey of the area. We selected a village that had, until recently, been cut off by landslides. Now one narrow road was clear. We worked with community leaders in Singai Pingai to arrange the distributions, prioritizing families in most need of help.
Today Save the Children provided 810 families, or more than 4,000 people, with hygiene kits and tarpaulins. But the day was not without its trials – managing crowds under any circumstance is a challenge, but especially so when people have spent days without assistance and are desperate for help. But we kept the lines moving and made sure goods made it to those most severely affected.
And there are moments that make the stress and long hours worthwhile. Today one young mother came up to me, cradling a baby in a sling around her chest, and carrying the tarps and hygiene kit she'd just received on top of her head. She carefully extracted her right hand, offered it to me, and said, "terima kasih" – thank you in Indonesian, but literally translated as "receive love." I think the feeling was mutual.
Editor's Note: Save the Children is an independent organization creating lasting change for children in need around the world. For more than 80 years, Save the Children has been helping children survive and thrive by improving their health, education and economic opportunities and, in times of acute crisis, mobilizing rapid lifesaving assistance to help children recover from the effects of war, conflict and natural disasters.
__________________________________________________________________________________________

To learn about ways you can make a difference, visit Impact Your World.