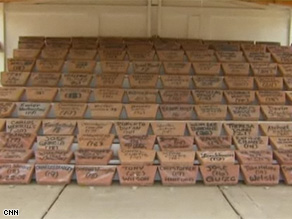 A memorial honoring the victims of the violence in Chicago, including Blair Holt.
Ismael Estrada
AC360° Producer
I'll never forget the day I met Ronald Holt and Annette Nance. It was in the spring of 2007 and their son, Blair Holt had just been killed on his way home from school on a city bus.
CNN Correspondent David Mattingly, Photographer Derek Davis and I walked into their home to interview the grieving parents of their honor roll student who had plans to move on to college. Two gunmen got on the bus and started firing when Blair jumped in front of his friend to protect her. He was killed.
As they told us about their loss, the pain in their voices was gut-wrenching. In the end they made a promise - to do all they could to stop the violence that is killing so many school children in Chicago.
They marched, held rallies and worked with social programs, but kids continue to die.
Two weeks ago, a video underscored the violence. A cell phone camera caught the brutal beating of 16-year-old Derrion Albert, another honor roll student whose life ended before it even got started.
Now, Secretary of Education Arne Duncan, and Attorney General Holder are in Chicago to meet with Mayor Daley and other public officials to figure out how to stop the kids from killing each other.
We have been covering this story for three years. In that time, more than 100 school kids have died. How can this stop?