____________________________________________________________________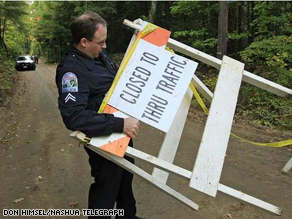 A Mont Vernon police officer moves a barricade before leaving the scene of the homicide on Monday.
Gabriel Falcon
AC360° Writer
A small, rural town in the hills of New Hampshire was jolted by a deadly home invasion over the weekend that left a mother dead and her young daughter severely injured.
"This type of murder does not happen very often," New Hampshire Senior Assistant Attorney General Will Delker told CNN. "This is something out of the ordinary."
Four teenage boys have been charged in connection with the incident that occurred early Sunday morning on an isolated, dirt road in Mont Vernon, a town with a population of around 2,000.
In a media release, the New Hampshire Department of Justice identified the homicide victim as 42-year-old Kimberly Cates. The medical examiner determined that she died from "multiple sharp injuries to the head, torso, left arm, and left leg."
The victim's 10-year-old daughter sustained serious knife injuries that required hours of surgery. "She's still in the intensive care unit," Delker said. "Her injuries weren't life threatening, but you shouldn't minimize the severities of the injuries she suffered."
Delker said Kimberly Cates' husband was away on business at the time of the attack.
Cates was employed as a registered nurse at St. Joseph Hospital, in Nashua, New Hampshire. "She worked part time in our maternal and labor department and also in our emergency department," said Sarah Ward, director of marketing and communications for the hospital. "The staff is pretty upset about it, they were pretty close to her."
"The people up here aren't used to this kind of thing," said Don Himsel, Senior Photo Editor for the Nashua Telegraph.
"This never really happens." Himsel also said violent crime is extremely rare in Mont Vernon. "I think we may have had one assault in town in the last 10 years."
On Tuesday, the New Hampshire Department of Justice announced the arrests of the four teenagers accused of taking part in the crimes.
Steven Spader, 17, and Christopher Gribble, 19, were charged with First Degree Murder, Attempted Murder, and Conspiracy to Commit First Degree Murder.
William Marks, 18, and Quinn Glover, 17, were charged with Burglary, Conspiracy to Commit Burglary, and Armed Robbery.
Delker, who described the case as being in its earliest stages, told CNN prosecutors evaluate in the future whether new or additional charges will be brought or upgraded.
A probable cause hearing for the defendants will be held on October 20.
Follow Gabe on Twitter @cnnfalcon.
For more crime coverage go to cnn.com/crime.