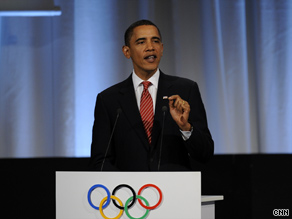 President Obama personally appealed to IOC members for the 2016 summer Olympic Games to be in Chicago.
Julian E. Zelizer
CNN
During the past few months, two events have revealed a side of President Obama that we knew little about. First came his remark in July when he said at a press conference that the police who arrested Harvard Professor Henry Louis Gates had acted "stupidly."
The unrehearsed remark triggered controversy right at a time when Democrats needed to focus public attention on health care.
And last week, at a climactic moment for the health care debate in the Senate, Obama suddenly went to make a personal pitch for holding the 2016 Summer Olympics in Chicago, Illinois.
When the International Olympic Committee said no to the president's hometown in the first round of voting, and then gave the event to Rio de Janeiro, Brazil, Obama suffered an embarrassing defeat. The late-night comedians and his political foes were predictably chomping at the bit.