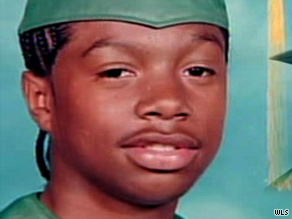 Derrion Albert, 16, was beaten to death last week in Chicago, IL. His death was captured on video.
Ruben Navarrette Jr.
CNN
When his stint in the White House is over, President Obama might just learn that Thomas Wolfe was right. You can't go home again.
Back in Obama's adopted hometown of Chicago, Illinois, some members of the black community are incensed at the president for not personally speaking out about the murder of Derrion Albert, a 16-year-old boy who was beaten to death last week in a predominantly African-American neighborhood.
What really set them off was that Obama, in an awkward case of bad timing, instead flew to Copenhagen to pitch Chicago to the International Olympics Committee as the ideal city to host the games in 2016.