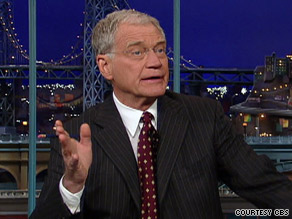 David Letterman on Thursday revealed an extortion attempt based on his sexual relations with staff members.
Cynthia Tucker
ajc
Last night, David Letterman shocked his studio audience when he revealed that he was the victim of an extortion plot. He had had extramarital affairs with female staffers, he said, and a man threatened to publicize the affairs if Letterman didn't fork over $2 million. Instead, Letterman took the blackmail demand to the Manhattan district attorney, and a suspect was arrested.
There is a lesson here for all the politicians who indulge in affairs and then get enmeshed in crooked schemes trying to cover them up. Two who come to mind are John Edwards, former Democratic candidate for president, and John Ensign, Republican senator from Nevada. Both have engaged in cover-ups that are quite possibly illegal; as usual, the cover-up may bring at least as much damage as the original sin.
Edwards is the subject of a grand jury investigation and a tell-all book.
A federal grand jury in Raleigh, N.C. is looking into whether Edwards' alleged attempts to cover up his affair with campaign worker Rielle Hunter resulted in a campaign finance violation. Meanwhile, a new book proposal by a former aide alleges the once squeaky clean candidate tried to falsify a paternity test and pushed wealthy donors to help silence his mistress.