Program Note: CNN Heroes received nearly 9,000 submissions from 100 countries. A Blue Ribbon Panel selected the Top 10 CNN Heroes for the year, and over 1 million of you voted for your CNN HERO OF THE YEAR
WATCH Change the World, You vote, CNN Heroes
Tonight  11 p.m. ET


____________________________________________________________________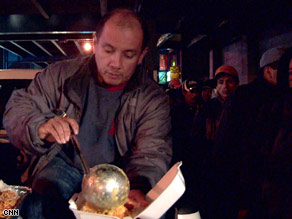 Jorge Munoz estimates he has served more than 70,000 free meals since 2004.

CNN Heroes

Every day, unemployed men gather under the elevated 7 train in Jackson Heights, Queens. Many of them are homeless. All of them are hungry.
At around 9:30 each night, relief comes in the form of Jorge Munoz's white pickup truck, filled with hot food, coffee and hot chocolate.
The men eagerly accept containers of chicken and rice from Munoz, devouring the food on the spot. Quiet gratitude radiates from the crowd.
For many, this is their only hot meal of the day; for some, it's the first food they've eaten since last night.
"I thank God for touching that man's heart," says Eduardo, one of the regulars.
Watching Munoz, 44, distribute meals and offer extra cups of coffee, it's clear he's passionate about bringing food to hungry people. For more than four years, Munoz and his family have been feeding those in need seven nights a week, 365 days a year. To date, he estimates he's served more than 70,000 meals.
Read more about Jorge Munoz here...
_______________________________________________________________________________________

To learn about ways you can make a difference, visit Impact Your World.