____________________________________________________________________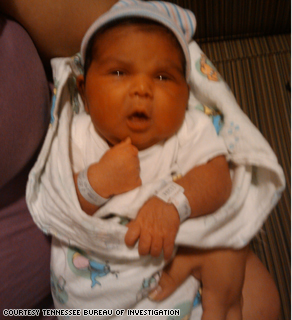 Yair Anthony Carrillo, age four days, was abducted on Monday.
Gabriel Falcon
AC360° Writer
Authorities in Tennessee searching for an abducted newborn said today a woman previously named a person of interest in the investigation is not connected to the case.
The Metropolitan Nashville Police Department said the woman, Lisa Sampson, was interviewed in New York and is not believed to be involved in the abduction of the 4-day-old baby.
A state-wide Amber Alert remains for Yair Anthony Carrillo. Police believe he was kidnapped from his family's home in Nashville at approximately 2:40 p.m. Tuesday. "We believe he is in danger," Kristin Helm, the Public Information Officer for the Tennessee Bureau of Investigation, told CNN.
Investigators provided details of the abduction:
"The child was taken by a white female who was posing as an immigration worker. She had come to the residence and demanded the mother give her the baby. When the mother refused to comply she stabbed the mother approximately 8 times."
At a news conference held at Vanderbilt University Medical Center, the baby's mother, Maria Gurrolla, said the woman posing as an immigration officer knocked on the door of her home. Speaking through a translator, Gurrolla said she left the baby on the couch as she ran for help after the woman assaulted her.
She called the kidnapper a "robust person." She also said she "needs her baby back."
Authorities also provided a description of the suspect: "The suspect is approximately 30-years of age and 5'4" tall and is heavy set. She has blonde hair and it is pulled back into a pony tail. She is wearing a black blouse and blue jeans. The female was driving a black 4 door sedan that was described as looking like a police car."
If you have any information on the whereabouts of Yair Anthony Carrillo, contact the Metropolitan Nashville Police Department at 615-862-8600 or the Tennessee Bureau of Investigation at 1-800-TBI-FIND.
Follow Gabe on Twitter @cnnfalcon.
For more crime coverage go to cnn.com/crime.