____________________________________________________________________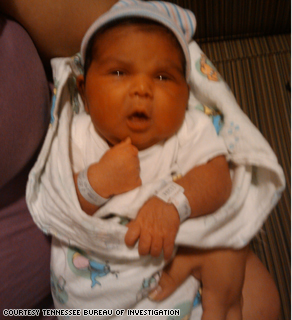 Yair Anthony Carrillo, age four days, was abducted on Monday.
Gabriel Falcon
AC360° Writer
A state-wide Amber Alert for an abducted newborn baby has been issued for Tennessee.
Four-day-old Yair Anthony Carrillo was kidnapped from his family's home in Nashville at approximately 2:40p.m. Tuesday, authorities said.
A statement released by the Tennessee Bureau of Investigation provides details of the incident:
"The child was taken by a white female who was posing as an immigration worker. She had come to the residence and demanded the mother give her the baby. When the mother refused to comply she stabbed the mother approximately eight times."
Authorities also provided a description of the kidnapper: "The suspect is approximately 30-years of age and 5'4" tall and is heavy set. She has blonde hair and it is pulled back into a pony tail. She is wearing a black blouse and blue jeans. The female was driving a black 4 door sedan that was described as looking like a police car."
If you have any information on the whereabouts of Yair Anthony Carrillo, contact the Metropolitan Nashville Police Department at 615-862-8600 or the Tennessee Bureau of Investigation at 1-800-TBI-FIND.
Follow Gabe on Twitter @cnnfalcon.
For more crime coverage go to cnn.com/crime.