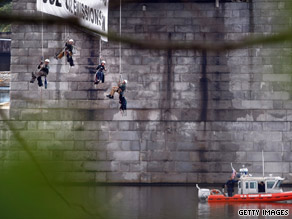 Four people attached to a massive banner dangle from a Pittsburgh bridge Wednesday to protest the G-20 summit.
Eliza Browning
AC360° Associate Producer
The United Nations General Assembly continues today. Afghan President Hamid Karzai, Venezuela's Hugo Chavez and Georgia's Mikheil Saakashvili are among the leaders slated to speak. Based on yesterday's speeches, should we conclude the world is safer or crazier?
World leaders will begin to head from New York to Pittsburgh for the G20 meeting today and tomorrow. President Obama promises to push world leaders for a reshaping of the global economy in response to the global economic crisis. Protesters are already out in full force in the Steel City – four people attached to a giant banner protesting the meeting were seen dangling from a bridge.
Before he makes his way to the G20, Obama is chairing the UN Security Council for a session on nuclear proliferation and disarmament this morning. He's seeking broad consensus to contain the further spread of nuclear weapons. Iran is in the limelight right now – it appears Russia may likely help the U.S. curb Iran's nuclear ambitions and Iran says it's willing to have its nuclear experts meet with U.S. and other global scientists. Is this a sign of progress? Libya is among the Security Council members – could we hear another soliloquy from Moammar Ghadafi?
Anderson will sit down with Senator John McCain tonight to discuss his thoughts on the current administration, Afghanistan troop levels and President Obama's handling of healthcare and economic issues. What would you ask the former presidential candidate? Don't miss this interview tonight.
And in our series on prime suspects, Gary Tuchman looks into a peculiar case involving a young man whose sister says he wouldn't hurt a fly. Although his friends said he wasn't capable of violence and he had no criminal record, he murdered four people. He was a high school dropout who spent most of his time alone in his bedroom chatting on online communities and recording songs that celebrated macabre killings. "Jesus told me to do it," is what the man told TV reporters. Did his apparent addiction to this "horrorcore" music play a role in his ability to commit these murders? More from Gary Tuchman tonight.
It appears there may be some hopeful news regarding HIV prevention. Researchers have found that a vaccine to prevent HIV infection has shown modest results for the first time. The vaccine was tested on more than 16,000 volunteers in Thailand and has protected a significant minority against infection – this is the first time any vaccine against the disease has even partly succeeded in a clinical trial. Does this mean there is a chance the disease that kills millions every year may someday be beaten? We'll have more tonight.
What else are you following? Let us know and see you tonight at 10 p.m. ET!