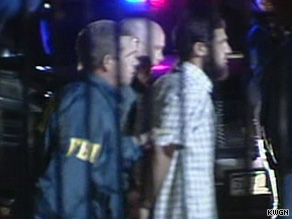 Najibullah Zazi is accused of making false statements to officials about an alleged bomb plot in the United States.
Maureen Miller
AC360° Writer
We're following new developments in the terror case with ties to New York City and Denver, Colorado. Three men charged with lying to federal agents will appear in federal court today. Najibullah Zazi, 24, and his 53-year-old father, Mohammed Wali Zazi will face a judge in Colorado. Wais Afzali, 37, a Muslim cleric and funeral director, will do the same in New York. They are among several people under investigation for plotting a bomb attack here in the U.S., according to the Justice Department.
They may have been targeting a large railroad or subway station, a source close to the investigation told CNN last week. Newly released court documents describe conversations between the men that allegedly took place just days before they were arrested. Deborah Feyerick is following this story for you tonight.
We're also looking at the debate over U.S. troop levels in Afghanistan. Gen. Stanley McChrystal, the top U.S. military commander in Afghanistan, says more soldiers are needed on the frontlines. He warned in a 66-page assessment that if more troops aren't added within the next year the conflict "will likely result in failure." Will Pres. Obama provide more troops? We'll have this story tonight.
And, we're digging deeper on the Phillip Garrido case. He's the California man accused of kidnapping and raping Jaycee Duggard, who has been reunited with her family. He has pleaded not guilty to the charges. Dan Simon talked with a friend of Garrido's- a friend who held something mysterious for him that may surprise you. It was a simple black box with a handle, metal switch and jacks for plugging in headphones. And it helps provide some insight on Garrido. "He feels he can speak to you and me and everyone else using this box," said Garrido's friend and former business client who spoke only to us on the condition of anonymity. "He was a whack job, but he was a whack job who sounded like he had a really good heart," he added. Intrigued?  Watch us at 10pm ET so you can hear the rest!