Editor's note: At 12:00pm  ET tomorrow, President Obama will go to a high school in Arlington, Va., to deliver a back-to-school speech to the nation's students. The White House plans to release the speech online today.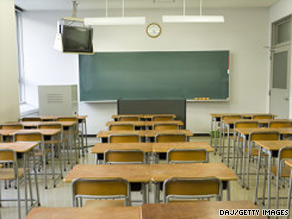 Dave Schechter
CNN Senior National Editor
You frequently hear claims that the United States has the best health care system in the world, despite data that suggest otherwise.
You never hear claims that the United States has the best school system in the world, because of data that suggest otherwise.
In fact, you never (okay, almost never) hear anything good about public education in this country, at least not until the subject is college or university.
Have the public schools been talked down to the point where broad-based success (rather than the individual student, school or district) is impossible – a sort of self-fulfilling prophecy?
Americans often say they distrust Congress and the whole lot of them should be thrown out – but then go ahead and re-elect their own representative.
Well, something like that goes on when the topic is public education.
In the most recent edition of an annual poll by the educators association Phi Delta Kappa International and Gallup more than half of those responding graded their local schools with an A or a B but gave the nation's schools overall significantly lower marks, with fewer than one in five awarding an A or B. "This continues a long-standing difference, suggesting that Americans like the schools they know but are much less positive about public education in general," a review of the poll observed.
"The reasons for this disconnect are simple," Gerald Bracey, a Phi Delta Kappa columnist and author of Education Hell: Rhetoric vs. Reality, told eSchool News. "Americans never hear anything positive about the nation's schools and haven't since the years just before Sputnik in 1957." Bracey cited not only the news media and education advocacy groups for the bad-mouthing, but also politicians, up to and including the White House. "On the other hand," Bracey said, "parents use other sources and resources for information about their local schools: teachers, administrators, friends, neighbors, newsletters, PTAs, and their kids themselves; and they're in a much better position to observe what's actually happening in American schools."
Education Secy. Arne Duncan has his doubts. "Too many people don't understand how bad their own schools are. They always think it's somebody else's kid who's not being educated. They don't understand that it's their own kid who's being short-changed. That's part of our challenge. How do you awaken the public to believe that your own kid isn't getting what they need and you don't know it. If they would wake up, they could be part of the change. We need to wake them up," Duncan said in an interview with Phi Delta Kappa's magazine.
Waking them up may be difficult. The latest CNN/Opinion Research Corp. poll, conducted at the end of August, found education tied for fourth as the most important issue facing the country, tied with the wars in Iraq and Afghanistan at 8 percent, but trailing the economy (41 percent), health care (20 percent) and the deficit (15 percent) percent. Remove the economy from the list and education still ranks fourth.
As it orbited overhead in 1957, the Soviet satellite called Sputnik scared the daylights out of Americans.
The American education world's version of Sputnik came in 1983, when a blue-ribbon panel appointed by President Ronald Reagan issued a report titled "A Nation at Risk."
The first paragraph sounded an alarm: "We report to the American people that while we can take justifiable pride in what our schools and colleges have historically accomplished and contributed to the United States and the well-being of its people, the educational foundations of our society are presently being eroded by a rising tide of mediocrity that threatens our very future as a Nation and a people."
The second paragraph warned: "If an unfriendly foreign power had attempted to impose on America the mediocre educational performance that exists today, we might well have viewed it as an act of war. As it stands, we have allowed this to happen to ourselves. We have even squandered the gains in student achievement made in the wake of the Sputnik challenge. Moreover, we have dismantled essential support systems which helped make those gains possible. We have, in effect, been committing an act of unthinking, unilateral educational disarmament."
A year ago, the only teacher on the panel defended that strong language. "Any reasonable teacher should have understood at the time — and I did — that we need to tighten up that belt. We have to do something," Jay Sommers, a former National Teacher of the Year, told USA Today.
Something has been done, a series of reforms that led up to the No Child Left Behind act, a signature piece of legislation from the administration of George W. Bush, which, with the best of intentions, put an emphasis on basic reading and math skills, judging the effectiveness of schools through test data.
Of course, as anyone in the news business knows, the initial headline gets more attention than the follow-up later. So it was several years later when an internal analysis by the federal government determined that some data in "A Nation at Risk" had been misinterpreted, that things weren't nearly as bad as the report stated, that in fact there were measurements showing improvement.
So what is the state of public education in 2009? To hear some folks talk, public schools are a disaster to be avoided. But has public education been talked down more than it deserves?
Consider this from UCLA Professor Michael Rose: "God knows, there is a lot wrong with our schools. But the scope and sweep of the negative public talk is what concerns me, for it excludes the powerful, challenging work done in schools day by day across the country, and it limits profoundly the vocabulary and imagery available to us, constrains the way we frame problems, blinkers our imagination. This kind of talk fosters neither critique nor analysis but rather a grand dismissiveness of despair."
Rose told me he first wrote those words 15 years ago. I told him they sound as true now as they did then.
Census Bureau data of note:
56 million
The projected number of students to be enrolled in the nation's elementary through high schools (grades K-12) this fall.
11 percent
Projected percentage of elementary through high school students enrolled in private schools this fall.
98,793
Number of public schools in 2006-07. In 2007-08, there were 28,218 private schools.
3,970
The number of public charter schools nationwide in 2006-07. These schools enrolled 1.2 million students.