Reporter's Note: President Obama has talked about the need for much more serious efforts by federal regulators, especially in the financial markets. The subject of my daily letter.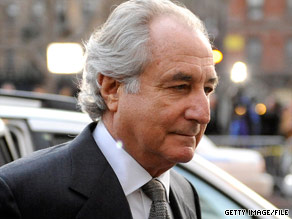 Tom Foreman | Bio
AC360° Correspondent
Dear Mr. President,
The Securities and Exchange Commission watchdogs may have just captured the Doctor Obvious Award for 2009. I know it's still early in the year and there are always strong contenders in DC, but seriously…this new report that says the SEC missed earlier opportunities to nail Bernie Madoff is like saying the Titanic had a damp basement.
The litany of warnings to which the SEC turned a blind eye in the Madoff case is mind-blowing. The path to prosecution could not have been clearer if it had been painted on the Capitol Dome beneath a fireworks display while George Thorogood belted out Bad to the Bone with Ben Bernanke standing behind him in a hula skirt, playing sax. The road to Madoff's end could not have been more apparent if it had been tattooed on the forehead of each and every SEC commissioner, and surrounded by a set of blinking LED piercings. If a lunatic dressed in a white robe, with a flaming crown and a tambourine awoke the commissioners every morning by running through their bedrooms with a sign that said, "INVESTIGATE BERNIE TODAY.." well, I'm sure you get my point.
Here's what the report, won't say however: The reason Bernie Madoff was not investigated earlier is the same reason the wealthy and powerful who are suspected of wrong are seldom investigated as soon as they ought to be. It's because other people who are wealthy and powerful, including the power brokers in DC, are hesitant to rock the boat for their peers.
Often folks like to say that others dislike the rich purely because they are rich. It's just jealousy, as the Crane brothers would put it. But I think what makes average Americans furious is the double standard. They are angry that the Bernie Madoff's of the world can run around pulling off the most outlandish rip-offs imaginable, and the agencies charged with maintaining rules, and law and order in our society sit there smiling at the cocktail party.
Much has been said about the need for federal regulators to do a better job in the wake of the housing crash, the market troubles, yadda yadda yadda. Here's my advice: If you don't break the culture of the powerful supporting each other, and government officials cowering in front of the wealthy, you'll never get there. What you'll get is more reports explaining how the horse mysteriously ran away, while the barn door keeps flapping in the breeze.
Busy, busy day here. You too? I suppose that's why you haven't called, but if you get a moment, I'll be up late.
Regards,
Tom
Follow Tom on Twitter @tomforemancnn.