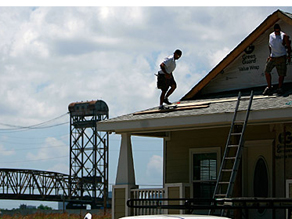 Matt Petersen
President & CEO, Global Green USA
In four years of working closely with the residents of New Orleans, I have seen one trait remain paramount among its citizens —their deep love for their city.
To understand New Orleans is to appreciate its beauty and uniqueness, music, food, art, warts and all. Although Hurricane Katrina may have damaged much of the physical city, the strength and love of New Orleans citizens has never wavered, and their enthusiasm to rebuild their city better and more sustainably is inspiring.
In the days following August 29, 2005, I, like millions of others, watched our federal government's pathetic, tragically inadequate, response to the drowning of a major American city play out on CNN. After pondering what more I could do besides send a donation, I began to feel galvanized, by a force that at times seemed to originate outside myself – to help rebuild New Orleans green. There were those who questioned whether we should rebuild at all, but in my heart I not only knew that rebuilding would occur but that my organization would be there to help.
One week after the storm, I had a vision of how to rebuild New Orleans and the Gulf region with three goals – help rebuild 10,000 homes to be green, rebuild schools to be sustainable, and adopt a neighborhood. New Orleans could not only be resurrected, but it could provide a blueprint for creating a truly green 21st-century urban community – one that is sustainable, highly energy-efficient, and also serves its most underprivileged citizens. After all of the hardship and heartache, this seemed to be the silver lining that the storm presented.
During my first tour of New Orleans, I realized that Katrina was not responsible for many of the ills facing the city. The city's schools were dilapidated, but what was most disturbing was the realization that the decay and disrepair predated the storm because of many years of neglect.
Today, while the rebuilding of New Orleans' schools still has a long way to go, the city has become a national leader in building environmentally-sound classrooms that dramatically improve educational conditions for students. Global Green's Green Schools Initiative – made possible in part by the support of the Bush Clinton Katrina Fund – has created healthier classrooms and more energy-efficient schools that in turn improve student performance and save money, while helping to protect the environment and reduce carbon emissions. To date, we have helped green over $100 million in existing and new school facilities, saving hundreds of thousands of dollars every year for the New Orleans Recovery School District.
The road to rebuilding has not always been an easy one. Many of us faced doubts from those along the way who did not believe that we could successfully implement our vision. Many have all made tremendous personal and professional sacrifices, including myself and everyone we work with, to ensure that this city is not forgotten. Yet, we somehow managed to persevere and now, thanks to those we have worked with and others, both local and from afar, our dream is today becoming a reality. New Orleans is indeed coming back to life in a way that was unimaginable only four years ago.
Thanks to donations from staff and donors, we were able to start this work and remarkably make progress on all three goals. After hiring staff and opening a local office a few months after the storm, we partnered with Brad Pitt in April 2006 to create the sustainable design competition that resulted in our Holy Cross Project (a 23-unit sustainable village that we are constructing in the Lower 9th Ward). Now we have three green, LEED Platinum affordable homes completed, two of which go up for sale in the next week to residents of the Lower 9th and the other open to the public as a visitor's center.
In 2007, the Make It Right Foundation, founded by Brad Pitt after being inspired by his work with Global Green, has joined with us and other local groups to be a catalyst for redevelopment of the Lower 9th Ward. Central City Muses, slated to be the city's first green apartment building, is a result of the co-developer of our Holy Cross Project learning first-hand how to create highly efficient, healthier homes.
When I gave former Soviet President Mikhail Gorbachev a tour of the devastated 9th Ward of New Orleans and our Holy Cross Project two years after Hurricane Katrina, he said that if the neighborhood had not been improved by his return in five years, the public might demand a revolution.
I don't think we'll have to declare that revolution, but New Orleans still needs our help as it rebuilds. We must remember that New Orleans is on the front lines of global warming. Global warming legislation is potentially stalled in Congress and negotiations for the upcoming Copenhagen meeting don't look promising. If we do not stem climate change, much of New Orleans, and other coastal cities, will be lost to sea-level rise, causing massive problems for our entire country.
Although the city is on the edge of a renaissance, it continues to struggle as financial donations are harder to obtain for fellow social entrepreneurs, and various other roadblocks have popped up along the way. No matter how far we've come, we mustn't forget how far we still have to go.
As Americans learned on August 29, 2005 and the days after, how we responded to the aftermath of Hurricane Katrina reflects on our nation. How we continue to respond both to the still-needed rebuilding and the larger problem of global warming will determine our future, and that of this unique city.
In short, we are New Orleans.
Editor's Note: Matt Petersen is the President & CEO of Global Green USA , the national environmental organization that has been instrumental in the green rebuilding of New Orleans

Program Note: Four years after Katrina, what is New Orleans like now? Some residents continue to face challenges as the Big Easy keeps trying to rebuild. Take a look at In Depth: After the Storm. And to learn about ways you can make a difference, visit Impact Your World.