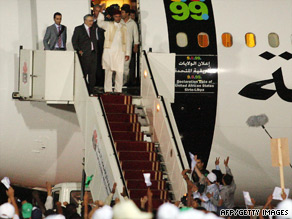 Abdelbaset Ali Mohmed al Megrahi (second from left) arrives in Tripoli, Libya.
Octavia Nasr | BIO
AC360° Contributor
CNN Senior Editor, Mideast Affairs
It's been hard to convince Arabs that Abdel Basset al-Megrahi was released only on compassionate grounds. They've been calling his release a deal and they've been discussing the facts as well as the fallout, the noise and controversy that ensued.
For Libyans, it was no doubt a victory. On the same day, they descended on a palace of their leader Moammar Ghaddafi, cheered him on and called him their "happiness maker."
For the rest of the Arab world, it was considered a deal early on. First, the timing was suspect. His release occurred one day before the beginning of the holy Muslim month of Ramadan, about a week ahead of Libya's 40th anniversary of the revolution that brought Moammar Ghaddafi to power, and a month before Ghaddafi's planned trip to the US where his visit - and the air-conditioned tent that will house him - are already the subject of controversy.
Then came the hero's welcome, which effectively sealed Arab suspicions. And if that wasn't enough, Ghaddafi's son and heir apparent, Saif al-Islam, spoke to a local station and said that al-Megrahi's release was part of every negotiation with the British government. He said it was part of a "trade deal" struck between the two countries. These comments angered the UK and the US but overjoyed the majority of Libyans and got some Arab editors and commentators talking.
For most Arabs, this is a business deal. Columnist Obaidaly Obaidaly says "al-Megrahy is just one element of this deal which involves closing the Lockerbie chapter forever and opening a new chapter in relations between Libya and the west." According to Kwaileet, oil, gas, technology and defense contracts involving primarily U.S. and British companies are likely to be signed, if they haven't been signed already.
The facts remain the same. The only man convicted in the Pan Am flight 103 which killed a total of 270 people, mostly Americans, walked free with a big smile. He received warm congratulatory hugs by one of the most influential people in his country, and the first words he uttered publically were a declaration of his innocence.
In his opinion piece for Al-Arabiya.net, Obaidaly concludes that "al-Megrahi is the key to the future relations between Libya and the west" which the author has no doubt "will become obvious in the near future."
So, if Scottish authorities cite compassion as the grounds for his release and Libyan leaders talk about his release as an integral role in "deals," does that make al-Megrahi's release a compassionate deal?
As the tension rises between the US and the UK over this high-profile release, an Arab world watches in awe and disappointment. One opinion editorial described what happened last week as a "cautionary tale."
"It is not about the rights and wrongs of the decision taken by the Scottish Justice Minister" the piece argues. "It is not about British Prime Minister Gordon Brown's clumsy handling of the matter and it is not about sending a positive signal to terrorists as a handful of US senators and FBI director Robert Mueller have suggested." The author then concludes, "It is simply that when the truth is absent, division, heartache and anger remain."
The Arab world has a history of searches for the "truth" between assassinations, coups and revolutions that bring leaders to power for decades or for life. Many Arabs, especially intellectuals, think that they can trust western governments with the truth. Judging by the reaction, this is one case that's making them re-consider.
Most of the Pan Am 103 victims were Americans. It is in this country that the outrage is loudest against the release of al-Megrahi and the hero's welcome he received in his native Libya. So how will Americans welcome Ghaddafi when he lands on US soil and heads to his mobile home (an air-conditioned tent that travels with him wherever he goes) in New Jersey in September? One can only imagine.
Follow Octavia on Twitter @OctaviaNasrCNN