____________________________________________________________________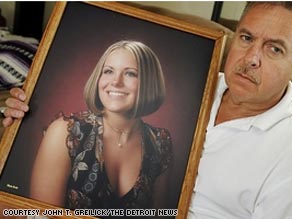 Steve Babcock holds a senior portrait of his daughter, Trisha Babcock, who was 24 when she was killed in Detroit on Aug. 1.
Gabriel Falcon
AC360° Writer
The bullet that killed Trisha Babcock on a summer night in Detroit took her life and forever shattered another one. "I can't believe she's gone," Steve Babcock said of his slain daughter. "She was such a special person. She had so much potential."
Police believe Ms. Babcock's promise came to a violent end at the hand of a 12-year-old boy. The young suspect allegedly approached the 24-year-old woman just after midnight on August 1. Babcock and her friend sat in a car and, after demanding money, the boy opened fire. Ms. Babcock died a short time later at a nearby hospital. The child accused of killing her has been charged with murder and attempted armed robbery. Authorities are looking for a possible second suspect.
Prosecutors have announced the 12-year-old will be tried as a juvenile. However, he has been designated as an adult, which, if convicted of the crime, gives the judge discretion of sentencing him to a life term in prison.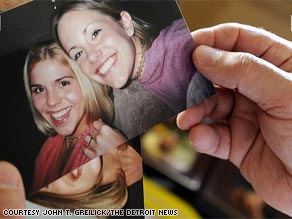 Steve Babcock shows a photograph of his daughter Trisha, at right, and a friend. The 2003 Davison High School graduate had planned to attend Mott Community College in Flint this fall and become a nurse, he said.
In a media release, the Detroit Police Department said the youth's name would not be released pending the August 26 preliminary hearing. He is currently being held in a juvenile detention facility.
Mr. Babcock is acutely aware that much of the media focus is on the suspect's age. But he hopes people across the country remember his daughter, a woman who, he said, "had the most beautiful smile in the world."
And he also had a message to those who have shown compassion for the young suspect: "He has his heart beating and air in his lungs, Mr. Babcock told CNN. "My daughter has neither of them."
"He shot my little girl. When that boy picked up the gun, he made the choice and he became an adult on that spot."
Mr. Babcock said his daughter was heading back to school in the fall to become a registered nurse. He said she also loved to cook and enjoyed spending time with family and friends. When her half-sister was having financial problems, he recalled she never hesitated to lend a helping hand.
Mr. Babcock said he was given sole custody of his daughter and brother when they were children. He taught them to be kind and respectful. "Trisha was raised by me and she was very compassionate," he told CNN, "and (she) had a warm heart and was a loving person."
"Every Mother's day she would give me a Mother's Day card thanking for being a mother and father," Mr. Babcock added.
The victim was white and the suspect is African-American. But Mr. Babcock is adamant that race should not be a factor in this tragedy. "If it was a white boy," he said, "the hatred would still be the same. It doesn't matter the color of the person, what matters is my daughter was shot to death."
The day before she died, Ms. Babcock was planning on doing laundry at her dad's home, Mr. Babcock recalled. But she was having car trouble. So he said he suggested she get it checked out. She agreed. Their conversation ended with Ms. Babcock telling her father she loved him. "That was the last time I talked to her," he said.
The pain has been unbearable ever since that day. He said he sat in the funeral home for three days, refusing to leave his daughter's side.
A tribute video to Trisha Babcock has been posted on YouTube. For Mr. Babcock, watching it is too much to bear. "Every time I look at it, I cry my heart out," he said. "I put my hand on the screen and try to touch her."
"My life is never going to be the same."
Follow Gabe on Twitter @cnnfalcon.
For more crime coverage go to cnn.com/crime.