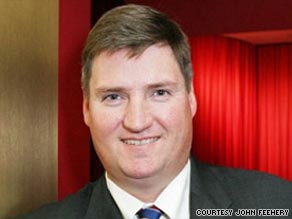 John Feehery says gaining bipartisan support for big legislation is extremely difficult.
John Feehery
Special to CNN
In the early morning of November 22, 2003, David Wu, a congressman from Oregon who is a Democrat, stood in the well of the House of Representatives, staring at the wall in the chamber that contains the names of the members of Congress with lights beside their names showing how they voted on the pending business.
Green denoted an aye vote, red a no vote, and yellow a vote for present.
Beside Wu's name, no light appeared. He hadn't made up his mind. On either side of him - for a period of time that seemed like an eternity - Wu had colleagues screaming in his ear, telling him to either vote yes or no on the pending piece of legislation.
He was the deciding vote, and he couldn't make his decision. So for at least an hour and maybe more, he stood looking at that board, in a seemingly trance-like state.
Finally, several Republican members changed their votes from no to yes, giving Wu the excuse he needed to vote against his leadership and vote for the Medicare Prescription Drug, Improvement and Modernization Act.