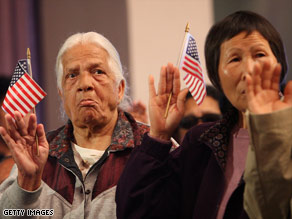 New citizens take the oath of citizenship during ceremonies in Montebello, California, earlier this year.
Rudy Ruiz
Special to CNN
One of the greatest challenges for minorities in any democracy is that their priorities often differ with those of the majority.
Consequently, even if a minority group does not experience outright tyranny, it can suffer tragic neglect. That's the lingering problem with immigration reform.
Latino leaders have long called for comprehensive immigration reform. During the presidential campaign, it finally seemed destined for reality as candidates sought the crucial Latino vote.
But today, where's immigration reform on the list of priorities?