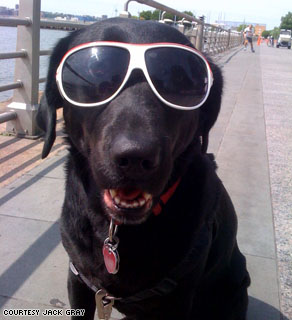 Jack's dog, Sammy, on the west side of Manhattan
Jack Gray
AC360° Producer/Writer
My dog is snoring. It is, as far as I'm concerned, one of the sweetest sounds in the world. Especially considering the alternative – a duo of pub-goers on the sidewalk below my window pondering that age-old question, "Why aren't you wearing underwear?"
At a time when the future of health care seems more uncertain than ever, it's worth pointing out that a dog snoring is not just among life's more pleasant sounds but among its healthiest, too. The Centers for Disease Control and Prevention say that having a pet can reduce blood pressure, cholesterol and feelings of loneliness. Unless, of course, your dog runs away, in which case the loneliness thing becomes a bit of a gray area.
My canine health care comes in the form of a Labrador Retriever named Sammy, whose birthday is today. Ah, Sammy – the center of my world, the odor of my studio apartment. I can't believe she's already 5-years-old. It seems like only yesterday that I picked her out of a squirmy puppy pile in southern Maine. Now she's just another maladjusted New Yorker, unabashedly flatulent and all too eager to fornicate in public.
For all Sammy's quirks – the aversion to right turns, the cigarette thievery, the feud with Regis Philbin – I wouldn't change a thing about her. If you've never had a dog the experience cannot be fully explained. To say these animals offer unconditional love and loyalty would be an understatement. You are their sun and – if you have an extra liver biscuit – you are their moon.
Like most roommates who have been together for five years, Sammy and I have settled into a daily routine that borders on the mundane. Walks around the block, naps on the couch, shots of Jagermeister…I guess it's true, I do take after my grandmother. Still, it's bliss. And the great thing about dogs is that they love you for who you are. They don't look down on you for being boring. Never once has Sammy badgered me to go out clubbing at 2am. Which is more than I can say for my friends...or my grandmother.
I don't know if Sammy realizes that today is her birthday. I sang Happy Birthday to her but, truth be told, I sing to her every day. I'm not sure she can make a distinction between Happy Birthday and the theme song from Growing Pains.
I suppose dogs probably don't get hung up on birthdays. Their lives are too short as they are to dwell on the passing of another year…they might as well live each day to the fullest.
That is, when they're not snoring.