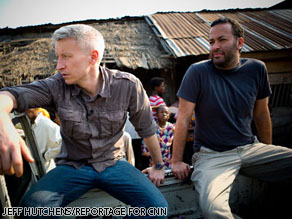 Anderson with Dr. Nathan Wolfe, a virus hunter who has published new research about the origins of Malaria.
Program Note: Posted below is the latest article from Dr. Nathan Wolfe, a virus hunter who believes he has discovered how humans first contracted Malaria. One of the world's deadliest diseases, Malaria claims the lives of more than 1 million people a year, most of whom are children. Dr. Sanjay Gupta will have a full report on the study and Dr. Wolfe will join us on AC360° tonight at 10p ET.
Dr. Nathan D. Wolfe et al.
Global Viral Forecasting Initiative
The distinguished anthropologist Frank B. Livingstone conjectured that P. falciparum may have been acquired by a transfer to humans of a chimpanzee parasite. The plausibility of Livingstone's hypothesis was based on the supposition that, as humans developed increasingly larger agricultural societies, they encroached upon the dwindling forest habitats of species such as the chimpanzee, and so there may have been repeated opportunities for horizontal transfer.
Today, human encroachment into the last forest habitats has further extended, leading to a higher risk of transfer of new pathogens, including new malaria parasites. Our results confirm Livingstone's conjecture and, moreover, suggest that the world's extant populations of P. falciparum derive from a single transfer of P. reichenowi from chimpanzees to humans.
How and when did the host transfer occur? A hypothesis proposed in the past was that the ancestors of P. falciparum would have been transferred from another host to humans as our Neolithic ancestors transitioned from hunter-gatherers to agriculturalists some 10,000 years ago. This proposal was based on anthropological information about the history of our species, but also on the estimated age of hemoglobin mutants that render humans resistant to malaria infection.