Program note: In the wake of a standoff between the New Black Panthers and the KKK last week during a rally over the death of Brandon McClelland, racial tensions run high in Paris, Texas. Gary Tuchman visited the small town to gain first hand insight on the current climate in a city plagued by explosive race relations. See his report 10p ET on AC360°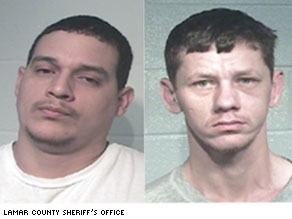 Charles Ryan Crostley (left) and Shannon Finley (right) were arrested for the murder of Brandon McClelland. They pleaded not guilty were found innocent last month.
Gretel C. Kovach and Ariel Campo-Flores
Newsweek
To his loved ones in Paris, Texas, Brandon McClelland was affectionately known as "Big Boy," a 284-pound gentle giant. He was a devoted family man—babysitting his little cousins, caring for his mother after she suffered a stroke and a heart attack, cooking up dishes of "Mexican spaghetti" for his disabled grandmother. He had a large circle of friends and regularly invited them over to play dominoes and to barbecue in the front yard. He always looked out for them, making sure the ones who had a little too much to drink got home safely. Though he was African-American, he didn't pay much attention to race. He had acquaintances of all colors, and, in fact, his best friend was a white girl he met at church.
One day last September, McClelland, 24, went to work hanging Sheetrock with two other white friends, Shannon Finley and Charles Ryan Crostley, both 27. When they finished, the three men went out drinking and, later that night, decided to go on a beer run in Finley's pickup truck. What ensued is unclear, but McClelland never returned. Just before dawn, Texas troopers found his mangled corpse on a deserted country road miles away from Paris. His head was cracked open, and his body was dismembered and partially disemboweled. Finley and Crostley told authorities that the three had argued about whether Finley was too drunk to drive—at which point McClelland exited the truck, and they drove off. But prosecutors allege that the two intentionally ran over McClelland, whose girth caused him to get lodged in the undercarriage and dragged along. In December Finley and Crostley were indicted for murder. (Both men have pleaded not guilty and are in jail awaiting a trial expected to start this spring.)