____________________________________________________________________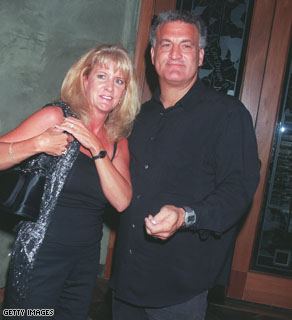 Mary Jo Buttafuoco in a 2000 photograph with her husband, Joey, outside Spago restaurant in Beverly Hills, CA.
Gabriel Falcon
AC360° Writer
Mary Jo Buttafuoco never thought it was funny. "I was furious for a long time," she told CNN. "I'm an almost murder victim, and jokes are being made? It was unbelievable."
Unbelievable, but true. How and why her husband's teenage mistress put a bullet in her head became fodder for the tabloids and a running gag for late night comics. Now, close to two decades after her near fatal encounter with Amy Fisher, the so-called "Long Island Lolita," Buttafuoco has found peace. "My life is good, it's calm," she said.
That tranquility didn't happen overnight. And it wasn't easy. She admits to years of soul-searching, an addiction to pain killers and denial about the high school sweetheart she married and defended. As she tells it, Joey Buttafuoco is much more than a punch-line or a cheating spouse. In her words, "he's a sociopath."
Buttafuoco is putting her ordeal on paper. In her new book "Getting It Through My Thick Skull" she details how she reclaimed her life after almost losing it. "This story is not about Joey and Amy," she explained. "It's more to me about learning lessons and moving forward and inspiring people."
Those lessons began violently and unexpectedly on May 19, 1992.
"I remember it so well, the way the day smelled, the air…I remember all of it up until the moment I got shot," Mary Jo recalled.
On that bright Tuesday morning, Mary Jo Buttafuoco was painting a bench on the backyard deck of the Massapequa home she shared with husband and their son and daughter. The ring of the bell sent her to the front door. There, on the steps, was a girl who called herself Anne Marie. The teenager confronted her, claiming Joey Buttafuoco was sleeping with her younger sister. "Don't you think it's disgusting that a 40-year-old man is having sex with a 16-year-old girl?" she asked.
Mary Jo Buttafuoco was annoyed, both at what she was hearing, and especially, at her husband, wondering what the "big, overgrown kid" might be up to. She told the teen "thanks for coming by" and turned around. The last thing she remembered was the blast to the right side of her head.
"There was no indication, even to this day, that I had anything to fear," Buttafuoco said about the encounter that ended in bloodshed.
Within days, the story was plastered on headlines and on talk shows. The country soon learned that Anne Marie was Amy Fisher, a 19-year-old woman who had been having an affair with Joey Buttafuoco. Fisher pleaded guilty to assault and spent several years in prison.
As for Mary Jo, Buttafuoco, she was lucky to be alive. The bullet ripped apart her jawbone, cut into her carotid artery and left the right side of her face paralyzed. Throughout her long recovery, she was convinced her husband was telling the truth. "I believed him when he said he had nothing to do with Amy Fisher," Buttafuoco said.
But slowly, the realization set in. The man she adored and the father of their children was, in her eyes, unfaithful, untrustworthy, and a con-artist.
She said her son, Paul, was the first to put that shocking label "sociopath" on his dad. According to Buttafuoco, "Paul said he's never going to stop and he's never going to get it, because he's a sociopath. And I couldn't get my head around the word because I thought sociopaths were murderers."
After researching the term, she concluded that the definition was accurate. "He's not a violent sociopath but a very cunning and conniving sociopath," Buttafuoco stated. "There is a part of him that could be a nice man, but it hides the things he does."
Reached by telephone, Joey Buttafuoco was quick to respond to the accusation. "Words from an ex-wife," he told CNN. "That's why they're ex's. I'm no angel, but this is going to be interesting to see how it plays out, especially when my lawyers advise."
Joey Buttafuoco, who said he works in recovery with drug-addicted children and adults, insisted her book is "insanity" and "full of inaccuracies." "I thought this book was about survivorship. It winds up being about the same old tabloid sensationalized stuff," he asserted. "Honestly, I would much rather have been diagnosed by a professional doctor than diagnosed as a sociopath by my ex-wife."
After divorcing Joey Buttafuoco and moving to California, Mary Jo Buttafuoco remarried. She said "my life is so different. The life that I have know is what I wanted with Joey. I wanted peace and quiet and a normal person and that's what I have."
Buttafuoco has a new love and a new life, but her struggles were far from over. She developed a dependency to pain killers. Only after being treated at the Betty Ford Clinic was she able to break the habit.
The saga for all three players in this sordid tale continues to this day. Joey Buttafuoco, who also resides in California, told CNN he's working on a book of his own.
"I have a hell of a story to tell and a hell of a story to share," he boasted. "My book is going to be nothing but the truth, the whole truth, so help me God."
Amy Fisher keeps her name in the news largely by allegedly pitching a sex tape and by reportedly working as a stripper. "I'm kind of disappointed in the paths that she has taken" Mary Jo Buttafuoco said of Fisher. In an email to CNN, Amy Fisher's husband, Lou Bellera, said Fisher "has no comment about the book but wishes the best of success for Mary Jo in her endeavor."
Buttafuoco hopes her autobiography strikes a chord with people who are "caught in the cycle of toxic relationships." And she's prepared for anything. "This is now on my terms," she said. "I'm a lot older and I'm ready for this."
For more crime coverage go to cnn.com/crime.