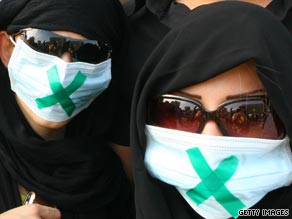 Golnaz Esfandiari
Radio Free Europe/Radio Liberty
A woman named Neda has become an icon of the ongoing antigovernment protests in Iran.
Millions of people in Iran and throughout the world have now seen a graphic amateur video of Neda's apparent death on a street in central Tehran, after having been shot in the chest while attending one of the rallies with her father.
Some in Iran are calling for June 20, the day of the violent crackdown on protesters that was apparently Neda's last, to become known as "Neda's Day." Neda mean "voice" in Persian.
Neda was reportedly buried hastily in Tehran's Behesht Zahra cemetery on June 21. According to unconfirmed reports, authorities banned a mourning ceremony for her at a mosque in the capital today.