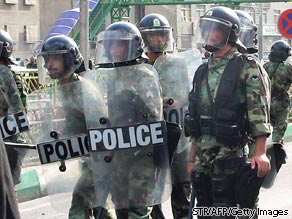 A picture obtained on June 21, 2009 shows Iranian riot police on a street of Tehran on June 20, 2009.
CNN
An Iranian student protestor in Tehran made a passionate plea for help from the world community this morning in a phone call to CNN's "American Morning."
For safety reasons, CNN can only identify the student by his first name, Mohammed. He's been a part of the protests and a target of the violence there. Below is an edited transcript of the interview.
John Roberts: What is the scene like on the streets? Are there more demonstrators out there on the streets? Or is it much quieter than it has been in recent days?
Mohammed: Hello. Actually I participated in Saturday's demonstrations in parts of Tehran. What I saw, I saw thousands of security officers that tried to break up the crowd. They used canisters and batons and water cannons against us. They attacked us. And we also in response attacked them. We attacked them by throwing stones. And we built trenches in the streets…