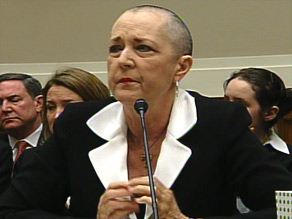 Robin Beaton, 59, found out just days before her mastectomy that her insurance provider would not cover the procedure.
Paul Begala
CNN Contributor
You probably have never heard of Robin Beaton, and that's what's wrong with the debate over health care reform.
Beaton, a retired nurse from Waxahachie, Texas, had health insurance - or so she thought. She paid her premiums faithfully every month, but when she was diagnosed with aggressive breast cancer, her health insurance company, Blue Cross, dumped her.
The insurance company said the fact that she had seen a dermatologist for acne, who mistakenly entered a notation on her chart that suggested her simple acne was a precancerous condition, allowed Blue Cross to leave her in the lurch.
Beaton testified before a House subcommittee this week. So did other Americans who thought they had insurance but got the shaft. As Karen Tumulty of Time magazine (who has been the journalistic conscience of health care coverage) wrote, other witnesses included:
"Peggy Raddatz, whose brother Otto Raddatz lost his insurance coverage right before he was scheduled to receive an expensive stem-cell transplant to treat his lymphoma. Why? Because Fortis Insurance Company discovered his doctor had found gall stones and an aneurysm on a CT scan - conditions that had nothing to do with his cancer, that never bothered him and that he wasn't even aware of. And Jennifer Wittney Horton of Los Angeles, California, whose coverage was canceled because she had been taking a drug for irregular menstruation. Now, she can't get coverage anywhere else. 'Since my rescission, I have had to take jobs that I do not want, and put my career goals on hold to ensure that I can find health insurance,' she told the subcommittee."