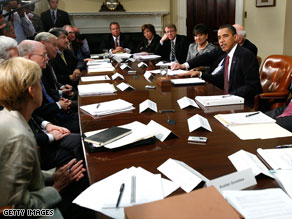 President Obama has said the U.S. must focus on green energy
Phaedra Ellis-Lamkins
CEO, Green For All
A common argument among opponents of strong climate and energy legislation is that transitioning to clean energy will hurt the economy and low-income Americans.
In an op-ed this week, Senator James Inhofe wrote that the American Clean Energy and Security Act will have a "devastating impact on the economy… cost millions of American jobs" and result in "higher electricity prices in our homes."
Others suggest that they oppose clean energy investments for the sake of low-income people who, they say, would suffer under a green economy.
This argument is scary, no doubt. It is also utterly false.
Today, Green For All, NRDC and PERI released a report projecting the complete opposite of this disingenuous argument. The report, entitled "Green Prosperity: How Clean-Energy Policies Can Fight Poverty and Raise Living Standards in the United States" finds that investments in a clean energy economy are good for Americans, especially low-income people.
Investments in a clean energy will create jobs. Lots of them. In fact, green investment will create three times as many jobs as the same investment in fossil fuels.
All in all, a $150 billion investment in clean energy is projected to create 1.7 million net American jobs, lower the unemployment rate by 1 percentage point, and raise living standards for the working poor.
And many of these green jobs will build pathways to prosperity for poor folks. Almost 50 percent will be accessible to people with low levels of formal education, and include high potential for advancement.
Contrary to the arguments of Inhofe and others, another major component of the plan for a clean energy economy is to lower energy bills, by making homes more energy efficient. Low-income households could save up to 4% of their household income as the result of energy efficiency measures.
These findings from "Green Prosperity" reinforce what we already know low-income communities and communities of color need: Investment. Opportunity. Dignified, career track jobs.
It should come as no surprise that so many of these communities are at the forefront of the push for a clean energy economy. Green For All is working with these communities to build an inclusive green economy that lifts people out of poverty as it combats environmental degradation.
Our task is certainly cut out for us.
Make no mistake, it is going to take work to make the clean energy economy as just and equitable as it can be. A laissez-faire approach won't get us there. Historically-excluded communities will continue to be marginalized in the new economy unless we write inclusion into the laws from the start. Policies and programs to green the economy must have deliberate provisions to include disadvantaged communities.
That's why the American Clean Energy and Security Act of 2009 needs to be strengthened. No, this climate and energy bill doesn't spell disaster for working Americans or the economy, as the naysayers would have you believe. But as it is now, the bill doesn't do enough to give low-income communities and communities of color a stake in a clean energy economy – A stake they need and deserve.
Congress must strengthen the American Clean Energy and Security Act of 2009 to ensure it includes investment in green jobs training and provisions to hire low-income workers.
Let's not settle for anything less than full inclusion for all of America's workers and communities in the clean energy economy.