Editor's Note: Dr. George Tiller, whose Kansas women's clinic frequently took center stage in the U.S. debate over abortion, was shot and killed while serving as an usher at his Wichita church Sunday morning. His murder has ignited debate and curiosity over late-term abortions and why they're performed. On Monday, we spoke to Lynda Waddington, who had a late-term abortion when she discovered her baby would not survive due to a genetic defect. That prompted Diane Elder to get in touch with us to share her story. Read this 360° interview to learn about her experience.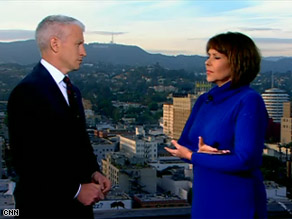 Anderson Cooper interviews Diane Elder, about her decision to not have a late-term abortion.
AC360°
Anderson Cooper: Diane Elder chose not to have an abortion even though she had every right to. She joins us now. Diane, thanks for being with us. You actually sent me an e-mail earlier today because of an interview you read that we had on last night. We had a woman on who, in the 20th or 21st week chose to have a late-term abortion because her baby had a severe genetic defect. You had a similar situation, you made a different choice. Why?
Diane Elder: I wanted my baby to have a natural death. I did not want my child to die at my hand.
Anderson Cooper: What did your baby have?
Diane Elder: My baby had a syndrome called Trisomy 18 which is a very severe chromosomal abnormality that is incompatible with life. That's the phrase doctors used.
Anderson Cooper: You found this out at what stage of the pregnancy?
Diane Elder: I was somewhere in the fifth month of pregnancy.
Anderson Cooper: And obviously, I mean, devastating news.
Diane Elder: It was devastating. I found out on Mother's Day. And all I can remember is collapsing to the floor because I had been trying for this baby for a very long time. So it felt like almost a cruel joke to me that this happened. And so I went forward with the pregnancy another four months. Probably the most difficult four months of my life. We were prepared for basically a monster because we were told she was going to not have a brain, and she was going to have possibly cleft palate, club feet. And she was born with all those things. She was born missing part of her brain. She had one club foot, one rocker bottom foot. She had just everything that goes along with that condition, which is bad. But we were very taken aback when we found that when she was placed in our arms, we were happy. We were incredibly happy. My husband was with me. A lot of family and friends showed up right after the birth. She was passed around from arms to arms. I told the hospital I did not want any extraordinary measures taken because I wanted what happened to her to be natural. I didn't want to try to force her to stay alive with needles and tubes if that would cause her pain and just prolong a very difficult life but I did not want to kill her either. So I just decided to completely turn myself over to nature and let it take its course. And the resolution was really a very good resolution. She never suffered.
Anderson Cooper: How long did she live?
Diane Elder: 12 hours. The nurse woke me up at 5:00 a.m. and said, "Diane, I think you might want to get up now. The baby's having trouble breathing, and this might be her time." And she put Angela into my arms.
Anderson Cooper: You named her?
Diane Elder: Yes. Angela Diane Elder. And Angela - she was able to make eye contact with me and it seemed as though she were looking into my eyes. I could hear her breath becoming more and more shallow, sort of a rattling breath. And then she took two large breaths and then a very large breath literally sat up and then fell back, and she was gone. And it was a very difficult moment even at this time.
Anderson Cooper: Do you regret it, looking back on it?
Diane Elder: Not it in one - not one minute of it. She died peacefully with no pain. The suffering was ours for two weeks, of course, at least two weeks. Really a whole year. We were in mourning for her, as you would grieve over any loved one who dies. That's a normal part of life. You can't get away from the fact that people die and people get sick and they die. But we felt very clean when it was over. And as though the situation was - there was closure. There was a resolution.
Anderson Cooper: Obviously, other women, other families in that situation make choices. Do you believe that women should have the right to make that choice?
Diane Elder: When a baby is a fully formed, living baby, I don't think that really we've ever had the choice to take a life at that stage. I think that that's a fully formed baby. I mean, I think you had some of the pictures up there. You saw her. She was a fully formed baby. She was born early, by the way. She came out at eight months.
Anderson Cooper: And when you heard about Dr. Tiller's death, your thoughts?
Diane Elder: Oh, I think that was awful. No one has the right to do that, particularly not someone who considers themselves to be an advocate for life. How can they take another life? It's inexcusable.