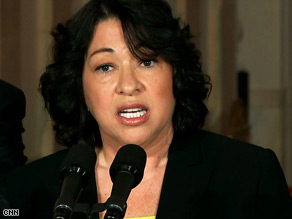 Leslie Sanchez
Special to CNN
The Obama administration has no intention of pushing comprehensive immigration reform any time soon, but with his nomination of Judge Sonia Sotomayor to the Supreme Court, the president may have found a suitable consolation prize for the Hispanic community.
A prize is due. Hispanics gave 67 percent of their votes to President Obama, delivering key states like Colorado, Nevada and New Mexico to his electoral column, and sending him two new Democratic senators and three new House Democrats from those states alone.
But the problem with identity politics is that not just any Hispanic will do. Obama made clear he wanted to pick a justice who would have empathy for those whose cases come before the court.