CNN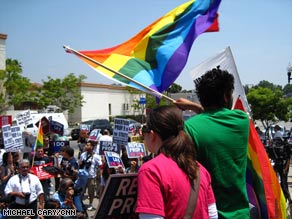 A crowd protests the court ruling upholding Proposition 8 in Los Angeles, California, Tuesday.
Opponents of California's voter-approved ban on same-sex marriages launched a new court challenge Wednesday, led by lawyers who were on opposite sides of the case that settled the 2000 presidential race.
Attorneys Ted Olson and David Boies have asked a federal judge to block California from enforcing the ban, known as Proposition 8.
"We are two lawyers from opposite ends of the political spectrum who have come together to support one of the most important issues of our time," Olson told reporters. The case "is not about liberal or conservative, Democrat or Republican. We're here in part to symbolize that," he added. Wednesday's lawsuit was filed on behalf of two same-sex couples who have been denied marriage licenses under Proposition 8. A federal judge in San Francisco has set a July 2 hearing on the matter.
"Our Constitution guarantees every American the right to be treated equally under the law," Boies said. "There is no right more fundamental than the right to marry the person you love and to raise a family."
Olson was the lead attorney for George W. Bush in the 2000 Florida recount. Boies, meanwhile, was the top legal strategist for former Vice President Al Gore, that year's Democratic presidential nominee.
California's Supreme Court rejected a challenge to the marriage ban Tuesday, but left intact about 18,000 same-sex marriages conducted before voters approved the ban in November. The court rejected arguments that the measure improperly amended the state constitution.