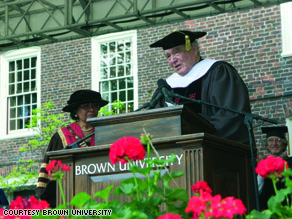 Sidney Frank getting honorary degree in 2005.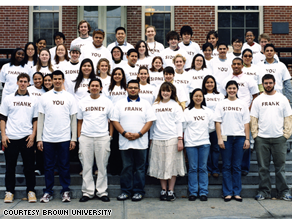 49 Sidney Frank scholars graduating Sunday
Norman Boucher
Editor & Publisher, Brown Alumni Magazine
Sidney Frank was too poor to spend more than a single year at Brown University in the late 1930's. But it was through a friend he made at Brown that he got his first job in the liquor industry and over the years wound up making billions off sales of Jaegermeister and, later, Grey Goose Vodka.
Frank had fond memories of Brown, and in 2004, when he was richer than he'd ever dreamed he would be and it was time to unburden himself of some of this wealth, he phoned President Ruth J. Simmons - the kind of call a university president can only fantasize about receiving, she says –to offer some of his fortune to Brown.
With that call began an unlikely friendship between a Jewish, cigar-smoking, rough-voiced liquor baron and an eloquent, Harvard-educated academic who happens to be the great-granddaughter of slaves.
What united them was a childhood of poverty and the hope that education will continue to offer a way out. And so Frank made what at the time was the largest gift ever to Brown: $100 million. But there was one very big string attached: the money could be used only to pay full freight for students, who like Simmons and him, could never otherwise afford an Ivy League education.
And so among the roughly 1550 cap-and-gowned seniors getting their degrees on Brown's College Green this Sunday will be the first group of 49 Sidney Frank Scholars, young men and women who are helping lead a quietly subversive campaign to nullify the idea that the Ivy League is a club that only the rich can afford to join. More Frank scholars will follow them - 32 every year.
Sidney Frank died in 2006. But somewhere, you can bet, he will be toasting them with a chilled glass of Grey Goose.