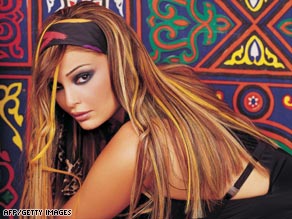 Lebanese singer Suzanne Tamim was found slain in her apartment in Dubai in July.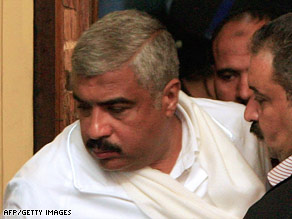 Hisham Talaat Moustafa, a real estate mogul, has been found guilty of Suzanne Tamim's murder.
Octavia Nasr
AC360° Contributor
CNN Senior Editor Mideast Affairs
Her murder less than a year ago shook the Middle East.. 30-year-old Suzanne Tamim.. a Lebanese rising pop star.. was brutally stabbed and her throat slit in her Dubai apartment.
Today, another shock: An Egyptian court sentenced two men to death by hanging for their role in her murder.
Mohsen el-Sukkary, a former Egyptian state security officer, who is charged with carrying out the killing... at the orders of Hisham Talaat Mustafa, one of Egypt's richest and most powerful men - a real estate mogul with close ties to Egypt's government elite. Police presented evidence tying both of them to the crime.
Mustafa's lawyer says he will appeal the verdict and is confident the sentence will be annulled.
Egypt's Public prosecutor, Abdul Meguid Mahmoud, says "Mustafa took part through incitement, agreement and assistance with Sukkary in killing the victim in revenge.'
Revenge - Arab media outlets report - for a failed love affair with the Lebanese Diva.
The Middle East is not unfamiliar with soap opera-like dramas linking powerful politicians or businessmen to popular figures in the entertainment industry. But this drama proved different for many reasons.
The graphic details of the murder were made public from the onset -surprising in a region where investigations are kept quiet.
Dubai, described as the oasis of openness and freedom in an ultra-conservative Middle East region had just launched a campaign against corruption and faced an embarrassment if it didn't follow up on the findings of its investigation.
And the Egyptian government.. frequently criticized for winking at corruption and covering up for well connected powerful figures... facing public cries for justice.
To top all that, the killer released taped conversations he said were between him and the Egyptian tycoon who hired him. The independent Egyptian newspaper Al-Masri Al-Yom, released the following text from those conversations.
Mustafa: Have you carried out the mission?
Sukkary: I had no chance and the place of the mission was changed to Dubai.
Mustafa: It would be difficult there.
Sukkary: Don't worry, it is my business.
Mustafa: Why did you delay the mission?
Sukkary: She is a famous singer and she is surrounded by many people.
Mustafa: Please put an end to this story.
At the time, Mustafa denied that the voice on the tape is his. Sukkary said after this conversation was recorded he quit and did not commit the murder.
As fans across the Middle East continue to mourn the tragic loss of Suzanne Tamim, an Arab world is absorbing the drama of not just the murder, but more so, the shock of Dubai police disclosure and Egyptian justice system that dared sentence a prominent business tycoon to death.
Follow Octavia Nasr on Twitter @OctaviaNasrCNN