Program Note: Tune in tonight to hear more about the situation in Afghanistan on AC360° at 10 p.m. ET.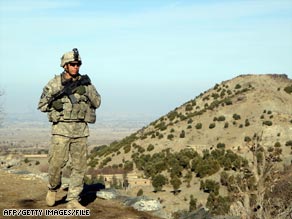 A U.S. soldier on patrol in Khost province in February 2009.
George Friedman
Global Intelligence Report
After U.S. airstrikes killed scores of civilians in western Afghanistan this past week, White House National Security Adviser Gen. James L. Jones said the United States would continue with the airstrikes and would not tie the hands of U.S. generals fighting in Afghanistan. At the same time, U.S. Central Command chief Gen. David Petraeus has cautioned against using tactics that undermine strategic U.S. goals in Afghanistan — raising the question of what exactly are the U.S. strategic goals in Afghanistan. A debate inside the U.S. camp has emerged over this very question, the outcome of which is likely to determine the future of the region.
On one side are President Barack Obama, Defense Secretary Robert Gates and a substantial amount of the U.S. Army leadership. On the other side are Petraeus — the architect of U.S. strategy in Iraq after 2006 — and his staff and supporters. An Army general — even one with four stars — is unlikely to overcome a president and a defense secretary; even the five-star Gen. Douglas MacArthur couldn't pull that off. But the Afghan debate is important, and it provides us with a sense of future U.S. strategy in the region.