____________________________________________________________________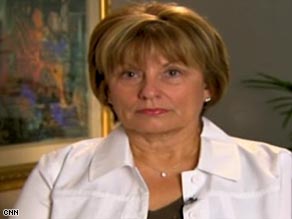 Sharon Rocha, mother of Laci Peterson, says Scott Peterson shouldn't be blogging from San Quentin.
Gabriel Falcon
AC360° Writer
As much as we'd like him to disappear for good, Scott Peterson won't go away, at least not yet. Despite a death sentence for murdering his pregnant wife, Laci, and her unborn son, Conner, the condemned killer continues to plead his case and in more ways than one. As with other convicted felons, he's filing appeals, hoping a court will overturn the verdict. That is his right.
But Peterson is also trying to convince you he's innocent. And he's using the Internet to do it. Peterson has managed to turn his Death Row cell at San Quentin State Prison in California into a virtual blogosphere.
His entries are posted on scottpetersonappeal.org, a web site created by the Peterson family. The site, which seeks donations for his defense, declares its mission statement as follows:
"We know Scott is innocent and that he has been unjustly convicted. Our pursuit of justice for Laci, Conner and Scott remains steadfast. We want to keep you informed as to the specifics of the case, the appeal, and related topics. We also want you to know how grateful we are for your prayers and support."
Click on the "Blog" box and readers are directed to a page of entries under the heading "Journey to Justice." A list of "Contributors" appears on the right of the screen. The contributors include Jackie Peterson, Joe Peterson, Lee Peterson, and Scott Peterson.
His latest entry, dated March 25, was written under the headline "Media Spotlight Wrong Again." Peterson blogs about the arrest in the Chandra Levy murder investigation. In part, this is what he wrote:
"I hope they have indeed correctly determined who murdered Ms. Levy, because I remember when they failed her and her family, and destroyed Gary Condit and his family with allegations that Mr. Condit was responsible. I am embarrassed that I believed the accusations at the time. Boy, have I learned a lot."
In an earlier blog from this year, Peterson lashes out at the police and the prosecutors for railroading him. Here's what he said:
"The police pointed a finger at me on day one, and the D.A. was involved almost immediately. They became invested in convicting me. facts and forensic tests showed that I could not be involved, but they had already put all their eggs in one basket. It was then impossible for them to back away without embarrassment. I do not think they wanted to admit to anyone, not even themselves, that they may be wrong, so they carried on. This explains why the D.A. would not complete a proper investigation and it explains why they would not test to see if it was possible to throw a body from our small boat (as is their sick theory). They did not want to know that it was not possible.?"
Scott Peterson did not blog this week. But his family did, to announce that Laci's parents withdrew their wrongful death suit against Peterson, saying
"We know that with each new piece of evidence that comes to light, it further shows Scott is innocent. We have the truth on our side and as stressful and difficult as the courtroom and media spotlight are, we were not afraid for this civil trial to move forward."
That blog was published on May 5, one day after what would have been Laci's 34th birthday.