____________________________________________________________________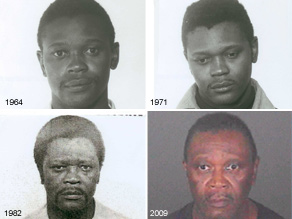 John Floyd Thomas Jr. may have begun his killings as far back as 1955.
Gabriel Falcon
AC360° Writer
To cops, John Floyd Thomas Junior is perhaps the most prolific serial killer in the history of Los Angeles. Suspected of being the so-called Southland Strangler, the 72-year-old Thomas is charged with murdering 2 elderly women. But homicide detectives believe the death toll may be much higher.
When he was arrested, Thomas was employed as a claims adjuster at the California State Compensation Fund. People who worked with him remember a friendly, mild-mannered colleague who, on occasion, sent religious emails to co-workers.
So what's it like to share an office with a suspected serial killer? We asked Earl Ofari Hutchinson. Thomas was his co-worker for 10-years at the State Compensation Fund. Here's what Hutchinson had to say about the man he thought he knew:
Always a Smile
"We would talk casually. Light banter – friends, family, usually things that were going on in the office and sometimes things that were going on in the community. Over a period of time, just talking with him, this was an individual who struck me as very concerned very engaging, always very friendly. Always had a smile on his face, always very placid. Soft spoken.
Religious Emails
"There was a period there where i would get e-mails. and in the beginning I didn't know who I was getting these e-mails from. Until I realized it was John. It would be scriptural sayings. It would be passages from the bible. It would be inspirational things for the day to live your life by, and I said "ah, " I didn't realize he was a very religious spiritual person.
Working with Women
"John was well thought of. He was a good employee from what I understood. He was well thought of by coworkers, and interestingly enough I would say the 85 to 90 per cent of those he worked with were women. So everyone that I have talked with in the times that I would see him he was always with women in the office because of the nature of the job."

Shock and Disbelief
"I said that's John. At that time my mouth dropped to the floor. It took my breath away at that point, to think that someone that you were that close to over a long period of time…would do the kinds of things that he is alleged to have done.
The reaction that I got when the story broke that he may in fact be this serial rapist and killer going back many years was one of shock, disbelief and 'heck no.' We can't believe this is the person they are saying did all of these monstrous things.The disbelief and shock is just incredible, simply because remember he was so well thought of by so many people."