____________________________________________________________________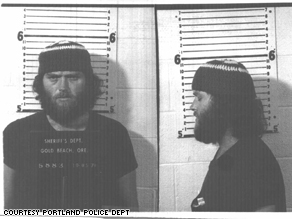 A file photo of Edward Warren, who was convicted of murdering two people in 1979.
Gabriel Falcon
AC360° Writer
Cold Case investigators never give up. No matter the date, no matter the details, they are always searching for clues that will solve a crime.
Mike Stahlman is assigned that mission by the Portland, Oregon Police Department. A former Detective, he works now with the force's Cold Case Unit. A federal grant gives him a salary for his part-time job. And his tireless work is paying off.
The victim's name was Rosa Cinnamon. She was in her apartment on the morning of April 24, 1976, when an intruder entered the home and strangled her. Rosa Cinnamon was 80 years-old.
The case went cold for decades. But that all changed recently with Stahlman leading a team that would help crack the oldest murder solved by Portland's finest.
An investigator with the Multnomah County District Attorney's Office resubmitted forensic evidence from the crime scene. The Oregon State Police crime lab analyzed the sample and isolated the DNA of Rosa's killer.
The lab then searched the databank looking for a possible match. It got one. The profile belonged to Edward Delon Warren. He was a notorious inmate at the Oregon State Penitentiary. In 1979, Warren had murdered two people.
Scientific evidence concluded he also strangled Rosa Cinnamon three years earlier. Detective Stahlman and the Cold Case squad learned that Warren resided in the victim's neighborhood in 1976.They know what he did. But they may never understand why he took Rosa's life.
You can read more about the investigation by going to the department's web site.