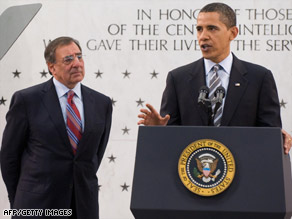 President Obama met with CIA workers and Director Leon Panetta, left, in Virginia on Monday.
Robert Zimmerman
AC360° Contributor and CNN Political Analyst
After thoughtful deliberation, President Obama released memos from the Bush administration revealing brutal CIA interrogation tactics. These memos, authored by leading officials in the Bush Department of Justice, made every attempt to create a legal rational to engage in nothing less than torture. Despite the use of bureaucratic language to justify their intent, there is no question these memos were an exercise to excuse tactics like "stress positions" that were employed by the Nazis in World War II or water boarding used by the Khmer Rouge in Phnom Penh Cambodia. In fact, these memos have the temerity to actually point out that other countries that behaved in a similar fashion, like Indonesia, were engaging in torture.
While President Obama deserves great credit for releasing these memos in the face of strong opposition within his administration and with minimal deletions in the documents, he has not ended the debate. On the contrary; he has started it. The questions that need to be addressed focus on whether the release of these memos compromise our ability to combat terrorists. We also have a right to know what, if any, measures should be taken to hold those who authored these memos, as well as those who attempted their legal justification, accountable. In short, the answers to those questions reflect the core values and the guiding principles that define the Obama administration and the Democratic Congress' commitment to transparency and accountability.
Vice President Cheney and his colleagues in the Bush administration have claimed that America has been compromised in its battle against terrorists. The same cast of characters who misled us into the war in Iraq, ignored the threat of Al Qaeda in Afghanistan, lied to us about our progress in the Iraq, deceived us about the cost of the war and did not properly protect our soldiers in battle or care for them when they returned are expecting to be regarded credibly in this debate.
On numerous occasions national intelligence officials in the Bush administration testified before Congress that they could not say whether the United States was creating or capturing more terrorists through the war in Iraq and our government's tactics. That seems to sum up the success of their strategies. The record and conduct of the Bush administration over the past eight years sacrifices the credibility of those individuals in this discussion. Someone should read them their Miranda rights before they comment further.
That leads to the next question: Should the individuals who devised these tactics and authorized them be held responsible? Rahm Emanuel, the White House Chief of Staff, stated that the Obama administration opposes any effort to prosecute those in the Justice Department who drafted the legal memos in question. The White House and the Democratic leadership in Congress have not even shown any interest in supporting Senator Patrick Leahy's proposal for an independent commission of inquiry, which would offer immunity in return for candid testimony. Congressman John Conyers, Senator Carl Levin and Senator Dianne Feinstein have also called for investigating aspects of these abuses.
However, we should establish the facts before making a decision about whether to prosecute. Our nation will not be paralyzed by documenting the facts and demanding accountability from individuals such as Jay S. Bybee, Steven G. Bradbury and John Yoo, the lawyers in the Justice Department's Office of Legal Counsel who are at the center of composing these memos. Jay Bybee now has a lifetime appointment as a federal appeals court judge. If he is impeached, the republic will survive. Former Attorney General Alberto Gonzales and more senior Bush administration officials, including Vice President Cheney, also played a critical role in the decisions around those heinous acts and have much to answer for as well – not just to the American people, but especially to those who served in our military in the war against Al Qaeda.
The history of our nation has taught us that our strength comes from our respect for our system of justice and trust in the principles set forth in our Constitution. The need for the Democratic leadership to support a congressional investigation is not about partisanship it is about preserving the very values that distinguish our country and defines its greatness in the eyes of the world.
Editor's Note: Robert Zimmerman has been a volunteer for the Democratic National Committee member since 2000. He is a partner at Zimmerman/Edelson Inc., a marketing, advertising and public relations firm based in New York which does not represent the DNC.