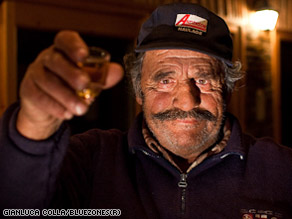 Greek-American Yiannis Karimalis, 73, lives in Ikaria nearly 40 years after a diagnosis of stomach cancer.
All this week, we'll be talking to Dan Buettner, the best-selling author of "THE BLUE ZONES: Lessons for Living Longer from the People Who've Lived the Longest."
Buettner just named Ikaria the world's fifth "Blue Zone." Ikaria is a remote Greek island of Ikaria where people are living longer, healthier lives. He's there right now to get some firm answers for us about what makes Ikarians so special, and to share those tips with us.
And are you curious about how long you'll live? Check out Dan's vitality compass and find out what your biological age is, how old you'll be when disease is likely to kick in and how long you'll most likely be on this planet.
For more information on the Blue Zones Quest, go to: http://www.aarp.org/bluezones.
Plus, cast your vote here to determine where Dan and his team go next in their quest for longevity.