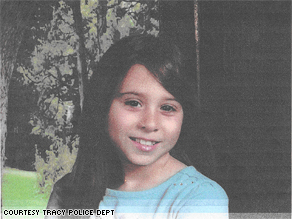 Sandra Cantu was last seen on Friday, March 27.
Gabriel Falcon
AC360° Writer
"When planning a visit to Tracy, you'll want to come early and stay late!"
The friendly greeting hails from a city that embraces small town living, and security. Tracy was voted one of the country's safest communities in 2007. Nestled in the San Joaquin Valley of Northern California, Tracy is about an hour's drive from San Francisco, but a world away from the glare of the national spotlight. Until now. Until a little girl disappeared.
A prayer vigil was held Monday night for 8-year-old Sandra Cantu, missing since Friday. "We just want her returned to a safe place," says family spokesperson Lisa Encarnacion. "They are devastated."
Nobody is giving up hope that Sandra will be found. Sergeant Tony Sheneman of the Tracy Police Department said, "We have no evidence to indicate she's been harmed and is not alive."
What happened to Sandra Cantu? Authorities say the second-grader was last seen Friday afternoon playing outside her family's mobile home in the Orchard Estates Mobile Home Park.
Encarnacion adds more details to the mystery. She says Sandra came home from school, went outside to play and then visited a friend's house before heading back home.
A surveillance camera her grandfather installed recently after the tires of his car were slashed, appears to show Sandra playing with other children outside in the mobile home park at approximately 4pm. She vanished a short time later.
Sandra has brown hair and brown eyes. She is wearing a pink "Hello Kitty" t-shirt and black leggings. Sandra is 4 feet tall and weighs approximately 45 pounds.
A massive multi-agency search is underway to locate Sandra. The Tracy Police Department, the FBI, local sheriff's offices, and California Highway Patrol have all joined forces in the efforts.
They are also being assisted by the National Center for Missing and Exploited Children, and by hundreds of volunteers. "The outpouring of the community and by strangers has been overwhelming, Encarnacion says. "The family appreciates everyone's support."
Contact the Tracy Police Department at 209-831-4550 if you have any information.