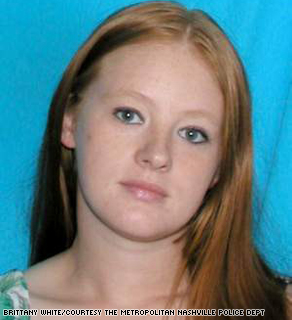 Brittany White was last seen on March 6.
Gabriel Falcon
AC360° Writer
It has been 11 days since Brittany White was last seen by her friends or family. But she wasn't reported missing until three days later. Detective Hugh Coleman of the Nashville Police Department says the 20-year-old woman disappeared after a confrontation with a roommate on March 6.
A media release by the authorities sheds more light on the case. According to the report, "White may have been involved in a domestic dispute between her estranged ex-husband and current boyfriend." Both men say they have no idea where White is or what happened to her.
Detective Coleman has one solid lead. Video taken at a local bank on March 13 shows a woman believed to be White. However, Coleman does not know if she is under duress. He says someone may be holding or manipulating her. He also added that White could be choosing to remain hidden for unknown reasons.
As of now, authorities are optimistic that White is not being harmed, and that no foul play is suspected.
But investigators won't know for sure exactly what happened to White until the mystery is solved. Until then, she will be classified as a missing person.
White has shoulder length red hair and blue eyes. She is 5'4" and weighs 130 pounds. If you have any information but her whereabouts contact Detective Coleman at 615-880-2928.