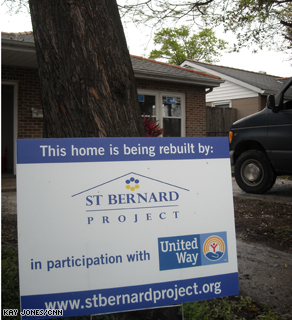 A house in New Orleans being rebuilt with help from the St. Bernard Project.
Penny Manis
AC360° Senior Producer
Anderson travels to 5 cities in 5 days to report on the money meltdown that's changing your life. He'll tell you what the numbers really mean, where the jobs are, and explain how the President's proposals affect YOU.
Last night many of you caught him in LA, and tonight he reports from New Orleans. Anderson has a story cooking that we are titling 'Return to Volunteerism.' He profiles a woman who is working with the St. Bernard Project, which is tasked with rebuilding homes for Katrina victims. This woman, despite financial issues of her own, helps with this project multiple times a year. She believes that in times of hardship, it is more important than ever to give back.
Sean Callebs has a story on money that FEMA gave the state, $75 million to be exact, for cottages to be built and house folks, but the Louisiana Recovery Authority has failed to use this cash for intended purposes. Watchdog groups worry this is what happens when bulk money from the government lands in the hands of state officials. Do they have trouble funneling it to priority projects? Sean will break it down for us.
We'll be taking questions from the folks who show up to mill behind Anderson himself. While they want their 15 minutes of fame on TV, they will also be asking our Money Panel questions about the state of the economy, and many of their Q's could echo your own.
The backlash is building coast to coast as bailed out insurance giant AIG hands out more than $160 million in bonuses to the executives who drove the insurance giant into the ground. President Obama indicated he will crack down, and one of his peeps on the WH Council of Economic Advisers said, "It's almost like these guys (AIG) should have gotten the Nobel Prize for Evil." What happens next w/AIG? We'll be watching.
We hope you like our coverage! Tomorrow Anderson is in Detroit, Thursday in NYC, and Friday in Miami. Let us know if you have stories you'd like to see on our show this week! We are always open to your ideas. Have a great St. Patty's Day, and see you tonight at 10pet!