Reporter's Note: The President wants voters to give him advice on how to run America. Every day I am writing a letter with my suggestions. Whether or not he is reading them remains a mystery.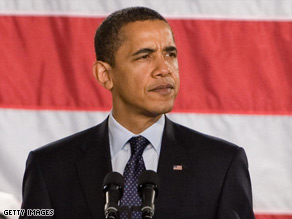 Tom Foreman | Bio
AC360° Correspondent
Dear Mr. President,
When I was in junior high a guy started giving me a hard time. Heaven knows why. I've always been the very soul of peace; share and share alike; a model citizen with whom no one could take issue. Well, ok, perhaps I'm not that agreeable, and no doubt I gave Stan some reason to dislike me. Perhaps it was my habit of pointing out how much he resembled Arnold the pig on Green Acres. Some people are sensitive about such things, you know.
In any event, despite our differences I really did not want to fight him. I've always been more of a "let's chat it over" guy, instead of a "let's knock out some teeth" guy. But as the days went by, the tension grew, and finally nothing would suffice but a brief and unauthorized round of fisticuffs. It happened as we were gathering for a class, lasted about fifteen seconds, and ended amid a shamble of tipped over desks and one very irate math teacher. I won't mention who got in the most good hits (although it was me) nor who was found to be to blame (although it was both of us.)
My point is, as much as we'd like to think that we can reasonably talk about our differences with anyone, there are some people who simply will not accept anything except a punch in the nose.
Now, I hear that you are open to some kind of talks with the Taliban? I don't want to be a wet blanket, but this group has not been particularly keen on negotiating with the opposition in the past.
Let's review their greatest hits. Afghan women would like to go to school and hold jobs. The Taliban? Why don't you gals wear these head to toe black drapes, and fear for your lives as the property of men. Afghan men would like to shave, listen to music, and speak freely about their government. The Taliban? Let's drag them into the street and beat them senseless, or just kill them outright. I'd like to have a photo album of my family. No. I'd like my children to be educated in the ways of the world. No.
I know the idea is to reach out to the "moderates" in the Taliban, but that's like finding the friendlier members of the Manson family.
For crying out loud, this is the group that blew up those giant, ancient sculptures of Buddha, even as people around the globe begged them not to. Seriously, if these guys can't get along with a statue, what precisely do you think there is to discuss?
Best of luck if you go ahead with this. I'll be watching of course, but don't hesitate to call if you want to discuss it a bit. I've got a lot to say, but I'm always a good listener too. See how easy I am to get along with?
Regards,
Tom
For more of the Foreman Letters, click here.