Program Note: Tune in to hear more from Ali Velshi tonight on the CNN Money Summit at 11 p.m. ET.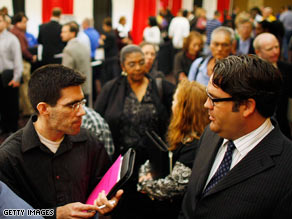 The industries that made gains in employment figures last month: government, education and health care.
Ali Velshi
CNN Chief Business Correspondent
Today's report includes a revision of the job losses for December, showing a loss of 681-thousand jobs. That would be the worst job loss since 1948.
Here are the numbers:
Unemployment rate now 8.1% (from 7.6%). Worst since Dec. 1983.
Adult Men: 8.1%
Adult Women 6.7%
Whites: 7.3%
Blacks: 13.4%
Hispanics: 10.9%
Teenagers: 21.6%
Asians: 6.9%
651,000 jobs were lost in February.
12.5 MILLION people now unemployed
4.4 Million jobs lost since beginning of this recession.
Only gains made were in education, health care and government jobs.