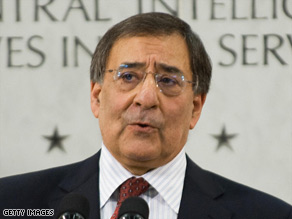 CIA Chief Leon Panetta inherits the issue of the destroyed interrogation tapes. Panetta says he does not plan to use coercive interrogation techniques on terrorist detainees.
Pam Benson
CNN National Security Producer
The CIA destroyed 92 videotapes of detainee interrogations, according to a court document filed by the government on Monday. The disclosure marks the first time the specific number of tapes has been made public.
The tapes were made in 2002 and showed the interrogations of two suspected al Qaeda leaders, Abu Zubaydah and Abd al-Rahim al-Nashiri. According to former CIA officer John Kiriakou, some of the videos showed harsh interrogations including the use of waterboarding, which is said to simulate drowning and is considered by most people to be a form of torture.
Government officials have said the tapes were destroyed in November 2005 at the orders of Jose Rodriguez, the then head of the CIA's National Clandestine Service, with the approval of NCS lawyers.
The tape destruction is currently under investigation by John Durham, a federal prosecutor.
The disclosure of nearly 100 tapes came as part of a federal court proceeding in New York City involving an American Civil Liberties Union motion to hold the CIA in contempt of court for destroying the tapes. Prosecutor Durham had requested and received a stay on the ACLU motion while his investigation was underway.
Acting U.S. Attorney Lev Dassin wrote in a letter to Judge Alvin Hellerstein that Durham had not requested a continuation of the stay following the February 28th expiration.
"The CIA can now identify... ninety-two videotapes were destroyed," wrote Dassin.
Dassin also told the court the CIA was now collecting information describing each of the destroyed tapes, as well as written accounts of the tapes and the identities of the people who viewed or possessed the recordings. "The CIA intends to produce all of the information requested to the court and to produce as much information as possible on the public record to the Plaintiffs, wrote Dassin.
In a written statement, the ACLU said the government's letter proves the CIA is in contempt. "The large number of videotapes confirms the agency engaged in a systemic attempt to hide evidence of its illegal interrogations and to evade the court's order."
Then CIA director Mike Hayden wrote in a December 2007 memo to staff the tapes were made as "an internal check" on the CIA's use of harsh interrogation techniques and the decision to destroy the tapes was made "only after it was determined they were no longer of intelligence value and relevant to any internal, legislative or judicial inquires." Hayden said there were detailed written notes on the interrogations.
Prosecutor John Durham's spokesman would not comment on the status of Durham's criminal investigation into the tape destruction. Tom Carson told CNN, "That investigation is ongoing so we are not commenting on any specific aspects of it."