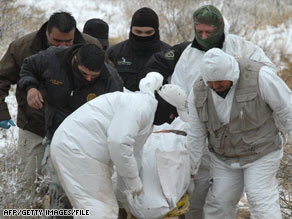 Ruben Navarrette Jr.
Special to CNN
You may have heard the rumor that, as a result of a bloody drug war that has claimed more than 7,000 lives since January 2007, Mexico is on the verge of being declared a "failed state."
Drawing a lot of its oxygen from cable demagogues and talk radio, the chatter intensified several weeks ago when the Pentagon issued a report warning that our neighbor - along with Pakistan, no less - could face a "rapid and sudden" collapse because "the government, its politicians, police and judicial infrastructure are all under sustained assault and pressure by criminal gangs and drug cartels."
How's this for pressure? The police chief in Ciudad Juarez resigned last week after drug traffickers began to make good on their promise to kill police officers in that city until the chief stepped down.