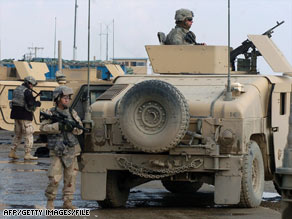 The Obama Administration recently approved deploying 17,000 more troops to Afghanistan.
Elise Labott
State Department Producer
It was an intense week of meetings with US, Afghan and Pakistani officials. They were reviewing U.S. policy to stabilize Afghanistan and neighboring Pakistan, a region now affectionately known to policy wonks as "Afpak."
But Pakistani Ambassador Husain Haqqani added a little levity to the urgent issues at hand Thursday night at a rare reception hosted jointly by the Afghan and Pakistani delegations. Haqqani toasted his guests by quoting the legendary speaker of the House, Texan Sam Rayburn who once said; "Any jackass can kick down a barn, but it takes carpenters to build a one."
" We have had our fair share of jackasses in our region," Haqqani told the group of hundreds of Washington's movers and shakers.
Turning to his Foreign Minister Makhdoom Shah Mehmood Qureshi Qureshi, Afghan Foreign Minister Rangin D. Spanta and Ambassador Richard Holbrooke, the new administration czar for the region, Haqqani said, "This room is full of carpenters who are now going to build something in our region."
But he had one plea to the formidable Holbrooke: "please don't hammer us too much."