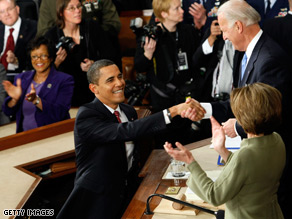 Penny Manis
AC360° Senior Producer
In his first speech to a joint session of Congress, President Obama outlined an ambitious agenda to the nation. He told us that we'll recover and we are not a nation of quitters. We had heard that he would lace his latest speech with optimism, and he certainly sounded more hopeful.
Did he warm your greasy little heart?
He focused heavily on the priorities of the budget he will present to Congress tomorrow: energy, health care and education. We'll have more on what he said, and drill down on budget details he may present tomorrow.
Louisiana Governor Bobby Jindal had a big job offering the GOP rebuttal last night. He echoed the complaints of other Republican leaders on Capitol Hill- too much spending- too few tax cuts. He said, "Democratic leaders say their legislation will grow the economy. What it will do is grow the government, increase our taxes down the line, and saddle future generations with debt."
How do you think they both did-let us know!
President Obama will introduce his new Commerce Secretary nominee today. Former Washington Governor Gary Locke, 57, was the country's first Chinese-American governor leading Washington state in 1996, and re-elected in 2000. We'll tell you more about him tonight.
Later, the President will engage in meetings with his economic team, and in the evening, he hosts Stevie Wonder. Yes, you heard me right. The President and First Lady will host this musician in honor of his receipt of the Library of Congress Gershwin Prize for Popular Song. I guess they need a little grooving amidst the economic doldrums. Can u blame them?
Ali Velshi follows Ben Bernanke back on Capital Hill trying to work his magic. After he signaled that nationalization of the big banks was not imminent in testimony yesterday, stocks rose. He also said he hopes the recession could end later this year, although a full recovery could take more than a couple of years. Great, an end in sight, right?
Gary Tuchman traveled to Fargo, North Dakota where folks are thinking: what recession? Fargo's unemployment rate is low, realtors expect increases in housing sales, and the state budget has a billion dollar surplus. Why is this pocket of the country doing well? Gary has the answer. (He also has great pictures of himself 'curling', I believe he was trying to keep warm given freezing temperatures out there!)
See u tonight!