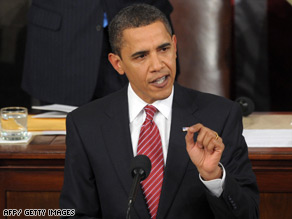 John King
CNN Chief National Correspondent
It looks – and sounds – so different from the last time a president took this stage.
That president, of course, was George W. Bush. Over his shoulder sat Nancy Pelosi and Dick Cheney.
This time, it is Barack Obama. Pelosi remains, but she sure looks happier. And Joe Biden is in the chair reserved for the President of the Senate – one of the official duties of the vice president of the United States.
Last year, one of the big dramas on the House floor was the obvious coolness between then Senators Barack Obama and Hillary Clnton. This year, Secretary of State Clinton was introduced with the Obama Cabinet, and exchanged a kiss with her former rival as he made his way into the chamber, as president, for this first speech to a joint session of Congress.
Different from a policy perspective, too. After 9/11, the war on terror dominated any Bush speech to Congress. The economy was the overwhelming focus of this first speech by President Obama – technically not a State of the Union Address.
We are still learning much about the governing and leadership style of Mr. Obama, and in the speech there is a telling glimpse at his domestic policy strategy. He knows he has support at the moment for his efforts to revive the economy. And so he made a calculated choice in this speech to list two policy areas on which predecessors failed to make serious progress – health care and energy – and to tie them to the nation's urgent economic challenge.
By tying these challenges to the urgent economic crisis, Mr. Obama hopes to transfer to those debates the public support he maintains, at least at the moment, for his economic agenda.
Already, even some allies are wondering if the president is trying to do too much at once. He is well aware of that danger, but has come to the conclusion that waiting is a more risky strategy.