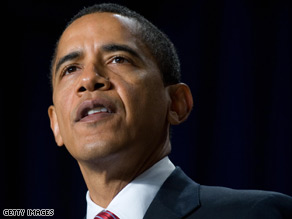 Jack Gray
AC360° Producer/Writer
It's a big night for President Obama. He has his first address to a joint session of Congress.  Naturally, that makes me think of my first address to a joint session of Congress.  It was a day that started off like any other: Me waking up on the floor of my apartment with Angela Lansbury's e-mail address written in pink lipstick on my bicep.
As I was thinking of a way to let Angela down gently, my cell phone rang.  I knew from the specially assigned ring tone – Hail to the Chief sung by the Pussycat Dolls – that it was The White House.  The Chief of Staff told me that Congress was demanding an impromptu State of the Union address that very night.  And, it turned out, with the president overseas and the vice president sidelined with a yoga injury (I told him doing Downward-facing Dog while Air Force Two was experiencing turbulence was a bad idea) the responsibility fell on my shoulders.
I know what you're thinking: that doesn't sound right.  But remember, this was during that brief period when the constitution had been amended so that the line of succession went:  president, vice president, Jennifer Love Hewitt, then me.  And, considering Love's itchy nuclear trigger finger and radical views on healthcare for orphans, the power players in the West Wing wanted me to make the address.
Anyway, I am nothing if not a proud American and I'll do whatever my country asks of me.  Provided that I'm given a meal allowance.
So, I showed up at the Capitol at the scheduled time and walked down the aisle to give my speech.  The assembled lawmakers were polite, if a bit confused.  I did my best to ingratiate myself with them, though in hindsight I probably shouldn't have opened with that dirty limerick about Daniel Webster.
Nevertheless, I quickly got into my groove. I updated Congress on everything from the economy to climate change to my fear of clowns.
Everything was going along fine until I noticed the Supreme Court Justices sitting in the front row weren't clapping at any of my applause lines.  And so I was all like, "Hey, Sandra Day O'Connor, I'm sorry things didn't work out between us but that's no reason to be rude during my speech."  And she was all like, "I'm a Supreme Court Justice, I'm not supposed to clap at political speeches."  And I was like "Whatever, we both know this is about that weekend in the Poconos."
It was shortly thereafter that the audience turned on me.  I don't remember the exact moment.  I'm told it was sometime between my suggestion that to combat inflation we just print more money and when I paused to call my acupuncturist.
The next thing I knew I was running out of there, dodging bottles of Heinz Ketchup being lobbed by Senator John Kerry.
Of course, I can't imagine President Obama will have any moments like that tonight.  He goes into this speech with a high approval rating and the confidence of the majority of Americans.  His main goal, one would assume, will be to convince the public to support his efforts to turn around the economy.
But he should probably have a dirty limerick ready anyway.  Just to be safe.
______________