Program Note: For more on what's next in Afghanistan tune in to AC360° tonight at 10 p.m. ET. What is the end game? What is at stake? And Is the war winnable? CNN's Joe Johns will be "Keeping Them Honest".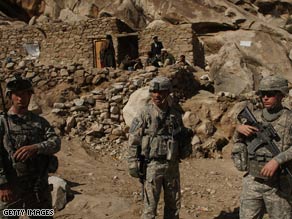 The commander predicted the new troops will be operational before Afghan elections in August.
Jon Soltz
Co-Founder and Chairman of VoteVets.org
In 2006, when I started VoteVets.org with a bunch of Iraq and Afghanistan veterans, one of the things that drove me bonkers was when the media would describe us as "anti-war." Yes, we opposed George Bush's war in Iraq (in which many of us had served), but were very clear that we saw a necessary military component in Afghanistan. In fact, we said, Afghanistan was slipping away because of the diversion of military resources to Iraq.
I mention this because from the outset, those of us who served in Iraq and Afghanistan recognized they were two very different wars, with two very different needs. That might be even more true today, as President Obama orders a remissioning of troops – sending 17,000 troops (including 12,000 combat troops) to Afghanistan, who were to be deployed to Iraq.
First and foremost, the Afghanistan/Pakistan region is where al Qaeda is based. The terror group is still mostly hiding out in caves, but is gaining breathing space as the Taliban spreads out and takes control of large chunks of the region. Allowing the Taliban to retake Afghanistan would put world security at severe risk, as the region would surely become the number one exporter of transnational terrorism. Say what you want about Iraq, but since the Sunni Awakening, exporting any kind of terrorism outside its own borders hasn't been a danger. What warring factions there are in Iraq, they are internal.
Second, there is a real need for a healthy military presence in Afghanistan, just to hang on. The issue many of us had with George W. Bush's policy in Iraq (besides going in), was that military action wasn't coupled with the full force of American diplomatic and economic power in the region. Therefore, sending more and more troops there wouldn't result in any kind of settlement. Hopefully, the Obama administration will take diplomacy much more seriously, and signs so far show that they are. Afghanistan has been without any real military and diplomatic efforts for the past 6 years, and that has allowed the situation to crumble. Right now, we need more forces just to hold back the Taliban and protect the Afghan people and the remaining infrastructure we've built for them. Additionally, more troops will allow us to scale back air strikes which often and unfortunately result in civilian deaths which only hurts our cause. The end result in Afghanistan must be diplomatic and political, but our hand in that process will be that much stronger if we are able to keep the Taliban from controlling the vast majority of the country.
It's important to note that the President's statement made clear that this troop increase does not mean his strategic review of the situation is done. I expect the President will lay out longer term strategy and goals in Afghanistan when that review is complete. But, bolstering our forces there now is a necessary step, so that Afghanistan doesn't further collapse into a foregone conclusion – a region returned to the Taliban and pre-9/11 status.
Editor's Note: Jon Soltz is the Co-Founder and Chairman of VoteVets.org, the nation's largest progressive group of military veterans. From May to September 2003, Soltz served as a Captain during Operation Iraqi Freedom, deploying logistics convoys with the 1st Armored Division. During 2005, Soltz was mobilized for 365 days at Fort Dix New Jersey, training soldiers for combat in Afghanistan and Iraq. He also served with distinction in the Kosovo Campaign as a Tank Platoon Leader between June and December 2000.