Editor's Note: You can read more Jami Floyd blogs on "In Session"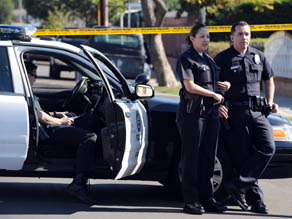 Police outside the Wilmington, CA home where Ervin Lupoe shot dead his wife and five young children before killing himself
Jami Floyd
AC360° Contributor
In Session Anchor
Since the economic downturn began, the media has been reporting a "rash" of cases in which men who have lost jobs or money have killed themselves and their families.
In the most celebrated case Ervin Lupoe killed himself, his wife, 8-year-old daughter, 5-year-old twin girls and 2-year-old twin boys in Wilmington, California. He and his wife had both lost their jobs.
It is easy to focus, in these cases, on the financially stressed father who snapped. But it is not really the economy that is to blame. It is true that some men who lose their jobs or life savings are vulnerable to depression and can become hopeless or even psychotic. It is true that suicide, spousal abuse and child abuse increase slightly in bad times.
But financial problems were a factor in only eight percent of the familicides studied by the Centers for Disease Control; and those of us in the business of criminal law know that most murder-suicides are caused by problems between intimate partners like adultery or child custody disputes.
Financial problems can be a factor; but It's not the economy per se that leads to catastrophic results. Instead, it is the stress created by a lost job or lost savings — the sense of desperation — that pushes some people over the edge. These cases are rare. So, no one should expect family killings to increase in an economic downturn. To suggest they will is fiction. And when times are tough we need to know the facts.